The return of the best burger ever to issue forth from the fertile loins and fevered minds of the Golden Arches (which, if you think about it, actually looks like the fertile loins of someone about to give birth; now you can't unsee it, you're welcome) is finally upon us. There has finally been some respite in these times of darkness, a break in the bad news to, at long last, bring you some glad tidings.
Sing praises unto your benefactor, your dark lord Ronald McDonald, because after a year away, McGriddles has finally returned to the McDonald's menu. And it was good.
Choruses (or was that chorii?) of angels sang a song of praise, cherubs provided the musical accompaniment with their cute little lyres (or was that lyrii?), rainbows spontaneously appeared in the sky, with gambolling unicorns vomiting over all and sundry.
But.
It isn't all good news. You still can't have your standard McGriddle with a slice of cheese. If you want a slice of lurid, yellow, highly-processed American cheese with your highly-processed sausage patty and highly-processed syrup-infused bun, you're going to have it with an egg.
And you know how badly McDonald's does its fried eggs. I'm all for frying some things to within an inch of its life—Spam, for instance—but there's some things you don't do to some things. Cooking the yolk all the way through is tantamount to a war crime. Won't you think of the children? Won't you hear their cries?
Anyway, that's the bad bits over, and I can promise you it's all uphill from here.
The biggest thing is that McGriddles is now available all day.
All.
Effing.
Day.
Think about what this means. You can now conceivably have McGriddles for every meal. Does that not sound like bliss, my fellow snackdowners?
My workaround the last time was ordering three in the morning and heating them up later. Needless to say, this is not an ideal situation. Heating up a burger is like necromancy. Yeah sure, the re-animated thing takes on some semblance of life, but they always come back somewhat… changed. Malevolent, even.
A reheated McGriddles probably won't rip your face off or murder you in your sleep, but I'm not making any promises. Don't come running to the Snacktivist when you find yourself missing a face.
Actually, I can't for the life of me remember whether McGriddles was previously available all-day but as a good friend once told me, "never let the truth get in the way of a good story".
And it gets better. Oh yes. Ronald is truly magnanimous with his bounty this time.
And the greatest of his gifts is this. Its name is the McGriddles Stack, burger of burgers. Look upon its works, ye Mighty, and despair!
If you really want to get nitpicky about it, you could simply call it a Double McGriddles with Egg and Bacon, a Frankenstein's monster cobbled together from the enormous vat of body parts vast amount of burgerific componentry McDonald's has in its inventory.
But variations on a theme has never stood in the way of greatness, especially when it comes to the issue of our fell lord. Spicy McNuggets and the McSpicy Deluxe being good examples. It's when the Golden Arches tries to over-think things that it falls a bit flat.
Anyway, what you can expect as you wrap your lips around the McGriddles Stack is awesomeness.
A lot of awesomeness.
It's everything you love about McGriddles, except now there's more to love.
What, you mean you don't like more McGriddles in your McGriddles? Like a Five Guys burger stuffed to bursting?
No matter, more for the Snacktivist then. On the subject of more, if you haven't got enough McGriddles, you'll want to scroll down for more—our review of the first McGriddles; McGriddles 1.0 if you like.
And my voice, which I've been told sounds like an angel… inhaling a chainsaw.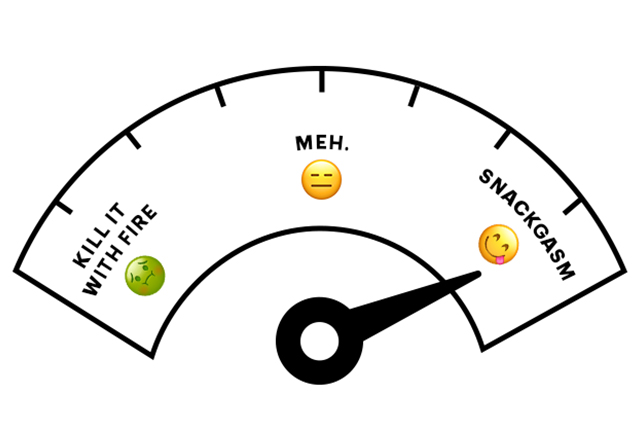 10-word review: It's the best thing to happen to McGriddles since McGriddles.
Best paired with: Nothing. The McGriddles Stack wants for nothing… except perhaps for your undying fealty.
---
As far as I'm concerned, (and really, that should be the only thing that you should be concerned about as well) the worst thing about McGriddles is the capricious nature of McGriddles. 
Like the more neurotic members of the veritable rogues gallery (I like to think of them as a really lame version of the Hellfire Club) that comprises my ex-girlfriends, their availability, whether emotional or physical, is entirely dependant on the vagaries of whether or not the moon is waxing gibbous, or if Mercury is in retrograde.
This is only a mild exaggeration, because for some reason, the all-knowing, all-seeing hive mind that makes up the management of McDonald's seems to think that time-limiting the best ever addition to the menu seems to be a good idea. And for that matter, keeping the Big Mac on its menu, but anyway.
We mere mortals can but speculate as to why this is so, but as with most things that concern higher being, you could reliably file this under "works in mysterious ways".
Yes, you read that right. I am a fan of McGriddles. It has received the coveted (exactly by whom, I have no idea, but I like to think so anyway) Snacktivist stamp of approval.
Why I hold the McGriddles in such high regard is the fact I think it's the most daring thing McDonald's has ever done. More than the introduction of fried chicken to its menu, more than their more recent attempts such as the Nasi Lemak Burger and obviously way so than Salted Egg Loaded Fries (which don't have much salted egg flavours, which make them quite loaded).
Daring because the mere notion of McGriddles seems to invite controversy. Essentially the unholy lovechild of a Sausage McMuffin and syrup-drenched Hotcakes, the key part of its charm to me is how it offends those with more delicate sensibilities.
Now, I get that as the de facto leader of the fast food free world, McDonald's can't simply do as it pleases. New introductions to the menu have to please as many people as possible.
And given that most people's eating habits tend to err very much on the side of dull, new items on the Maccas menu tend to be dull as well. Boring people eat boring food, right?
But a McGriddles no crowd-pleasing, middle-of-the-road burger.
A McGriddles is brash, bold and doesn't give a flying rat's hairy, bubonic plague-carrying bottom if you like it or not.
It's savoury and sweet at the same time, and in equal measure. McGriddles cares not whether you think a syrup-infused bun resembling a compressed Hotcake sandwiching a patty ostensibly made of meat (as opposed to say solidified nitrates) is a crime against nature.  
But whether or not you think McGriddles is an aberration, one does wonder how the idea of McGriddles was even floated. Perhaps I might be able to offer up a explanation.
Anyone who has ever eaten a Hotcakes meal will know it's impossible to keep the syrup off the sausage (heh). Oh, some will try to fight the chaos, they will try to enact some kind of sweet/savoury apartheid, but it's mostly futile.
So clearly, someone thought why fight it. Why not just give into the sweet embrace of oblivion?
Why not, I don't know, take things to its logical extreme?
And so, I'd like to think that's how McGriddles was born.
It's the fast food edition of How I Met Your Mother. Speaking of which, how is it some people enjoy that show? I mean, its chief conceit as a romantic comedy kinda falls flat because it's neither funny nor romantic.
That said, I know people who enjoy the series immensely. Then again, I also know people who enjoy being flogged and choked, so there you go.
Just like the way I enjoy McGriddles immensely, despite some people thinking the mere notion of it is equivalent to a war crime.
But the real crime here is how McGriddles isn't a permanent fixture on the menu, as I said earlier at the start.
Nobody knows when it's coming or going. Or for how long it's staying, or when it'll return.
"The drop of the year", as McDonald's puts it.
And far be it for me to agree with a megacorporation, the original McCorporation, if you will, I have to grudgingly concur.
But before I go, I'd like to make one small request. Dear Ronald, could you please, please, pretty please with a cherry on top include a slice of cheese with the regular McGriddles?
It's ridiculous that I have to order a McGriddles with Egg in order to get it. And let's face it, your eggs taste like ass, or at least, like deep fried plastic.
Look, it's just a piece of cheese. Charge me 50 cents more if you have to, but JUST GIVE ME A DAMN SLICE OF PROCESSED AMERICAN CHEESE.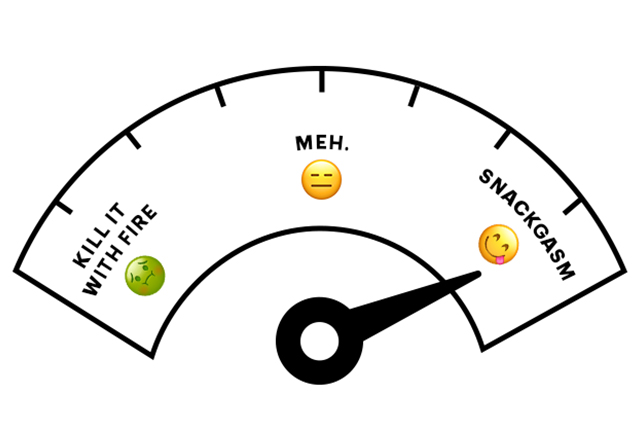 10-word review: McGriddles, the perfect and unholy union of savoury and sweet.
Best paired with: A slice of cheese, because the only way you're gonna get it is with a McGriddles with Egg.