"TV and the Internet are good because they keep stupid people from spending too much time out in public," is a quote attributed to the deservedly decorated writer Douglas Coupland. His point is nuance-free, obvious and right—but only technically. TV and the Internet are good because they're great; they make living worth living, in a multitude of ways.
Our picks from the best items that entered the cultural whirlpool in 2022 are crowned for the manner and intensity with which they impacted the daily process of arise-work-consume-consume- consume-sleep-repeat. Everything except the best isn't ranked. Subjectivity comes with a price.
Now, let's celebrate the fact that we survived Covid-19, Elon Musk and all of this year's virological attacks by toasting to the members of its cultural upper echelon.
---
Music
Best of the best
Kendrick Lamar: Mr. Morale & The Big Steppers
Every now and then, a peerless, alienating, feathers-ripping album is birthed. Lamar's fifth is that album. Most formidable is its bruising self-awareness that, on stand-outs such as 'N95', 'Rich Spirit' and 'We Cry Together', splits the difference between self-flagellation and cry for help from a hoarse, blood-coughing throat.
Rosalía: Motomami
Honouring Rosalía's simmering, luscious superpower (that voice), Motomami is a boiling-point brew of reggaeton, bachata and flamenco, seamlessly engineered to be deployed as heritage-celebrating hymns and bubbling molotov cocktails ready to ignite the best parties.
Soul Glo: Diaspora Problems
Hardcore finds its voice here—in the contemporary minefields of race and personhood, and detonates its confessions and revelations. Consider this: "Think of Rambo in his flashbacks when he tied to a tree/Emotional assimilation feels similarly".
Sudan Archives: Natural Brown Prom Queen
Sudan Archives' story—its teeming intricacies—is as distinct as her telling of it. Neoclassical filigree, textural washes of ambient spray, rhythm that heaves with kicks and bass, all these coalesce around her lovely voice, and into a singularity.
Alexisonfire: Otherness
The leaders of the sound's darker, more bracing incarnations quietly reformed after their 2012 breakup and released one of their best yet. Expect more layers, more riffs, more tectonic rhythm, more melody, more of that soundtrack-of-my- life magic that tracks perfectly with the steps I take in my grown days.
Bad Bunny: Un Verano Sin Ti
To confine Bad Bunny's merits to just the domain of reggaeton is akin to believing the wind is only good for spreading fires. After blessing the ether with two needle- possessing albums last year, he gives us Un Verano Sin Ti this year. Language
is a divisive barrier and here's a living document of how to destroy it.
Spoon: Lucifer on the Sofa
For so long, Spoon has been your favourite indie band's favourite band. And our best-kept secret. The songs here are big, world-destined and pulse with an energy both solace-profferring and dashingly reckless. Existential fuel for the soul, infinitely more delectable and affecting than chicken soup.
Beyoncé: Renaissance
Renaissance is the work of a Queen who's persistent with the kind of perfection she delivers. On Beyoncé's seventh album, it manifests in the familiar canvas of dance-pop. But it's so detail-rich and care-full, so powerful a conveyance of That Voice that it could've come from one source only: The Queen.
Fontaines D.C.: Skinty Fia
Skinty Fia is rock music that isn't easy to like; none of its songs is arena-friendly. But that's the point. It's a testament to rock's vitality that Fontaines D.C. can sacrifice propulsion for profundity. This album is a dispatch from the centre of emotional extremity from start to finish.
Shygirl: Nymph
Arca, Mura Masa, Sega Bodega, BloodPop, Vegyn and Danny L Harle—a lineup of pop's most restless flag- planters—gather here. But the authorial hand directing them all is Blane Muise's. Her signature is a cocktail of left-of-the-dial pop sounds in which penetrating emotional disclosure is Trojan-horsed as sexual edgelord-ism.
---
Film
Best of the best
The Northman
Why does a historical epic get our crown for film of the year? Because it's so thoroughly and immaculately a vehicle for our revenge fantasies— our low-flying (on a good day) angst at how the last two years have been and how things are now—that it defines rage, indignant, hurt-borne rage as the simple-yet-profound primordial force that it is. The territory is familiar: a Hamlet-esque family drama where the stakes are weighed in blood, within the battles of which, humanity (and Alexander Skarsgård) shines. But the approach is singularly new and poignant.
Nope
"What's a bad miracle? They got a word for that?," Daniel Kaluuya's OJ asks. One of the more literal moments in this densely self-referential, self-interrogating Jordan Peele film, where, once again, horror has to be bookended by scare quotes because what it's saying is vastly more horrific than what it's showing. The audience— its need for constant stimulation, for distraction, for spectacle—and the entire moving image's history are implicated in this extraterrestrial 'thriller'.
Elvis
Believe the hype: when it premiered at the Cannes Film Festival ahead of its wider cinematic release, Elvis received a 12-minute standing ovation. That's a long time, but the effusion is warranted. Austin Butler, who underwent some coaching at Baz Luhrmann's proverbial school of hard knocks, turned in a performance that history will honour in perpetuity. His Elvis is Elvis, but alive even as the noose of his American Dream tightens around his neck.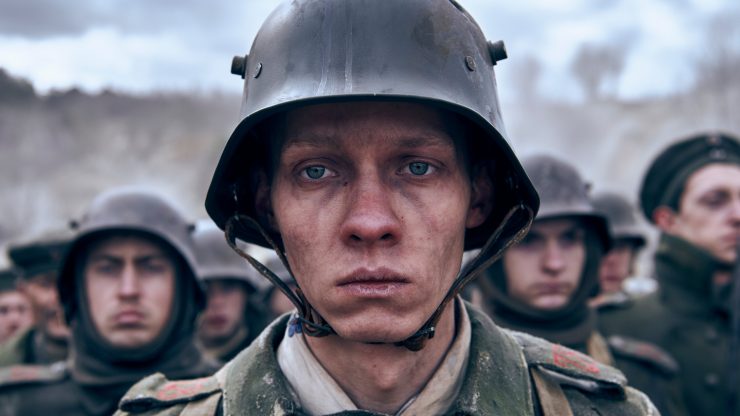 All Quiet on the Western Front
War. In 2022, we know its taste all too well. Like the novel from which it emanates, the film conforms to the truism that the best, most potent anti- war depictions in art are those about war. As the curtain falls on the first Great War, a beaten German solider comes to terms with the fact that the hero's mantle that he was fed the war would be is exposed for the devastating lie that it is. This is a blood-curdling worst-look at war's worst-case scenario.
Sissy
For all that happened in 2022, the cultural vibrations also affirmed that the influencer phenomenon isn't about to burn out or fade away. Regardless of how you feel about that, it's undeniable that Sissy's take on the vocation is… visceral, to say the least. As the titular social media star reconnects with her childhood friends, buried-within trauma resurfaces with a surreal vengeance that makes the flick frightfully timely. Also, Aisha Dee (Sissy) just elevated herself.
Barbarian
"Don't stay there. Get out while you can"—Barbarian is that kind of horror, and it's so good at it. There are no ghosts here; human beings perpetrate the kind of depravity that would make their otherworldly counterparts blush. There's an Airbnb, a mattress, a camcorder, a hidden corridor, some underground tunnels and someone called 'The Mother'. The way these elements marinate into the terror-spawning brew that the viewer takes in is stomach-churningly fantastic.
Fire of Love
Nature or, rather, panoramic contextualisations of nature are a savvy filmmaker's handy cheat code. Sara Dosa takes full advantage of the protagonists' jobs (as volcanologists) to put nature on glorious display and, in doing so, literalises the intensity of the passion and love of the film's lovebirds against a diorama of simmering volcanoes. How their (love) story is reprised is a gorgeous tribute to a love informed by the scale and sweep of nature.
Top Gun: Maverick
"The future's coming and you're not in it… The end is inevitable. Your kind is headed for extinction," Vice Admiral "Cyclone" declares. "Maybe so, Sir. But not today," Captain Pete "Maverick" Mitchell retorts. Tom Cruise is at his coolest when he's quiet. He doesn't say very much on Maverick, since Nostalgia and Patriotism act and speak through the cast. But in his quiet demeanour, in the way he, like the film, doesn't mince any words about what he/it is, Cruise and the film are so cool.
Everything Everywhere All At Once
A24 ends 2022 on a high, cresting wave because of this one. The validity of science fiction is perennial because of how the other-worlds can weigh in on the 'real' one in powerful and humbling ways. Michelle Yeoh's everywoman, Evelyn Quan Wang, is a surrogate for all of humanity in this multi-genre spectacle with a heart of pure gold. Lovely, tear-jerking, LOL-funny and quiveringly real—this is a filmmaking fist bump for humanity.
Black Panther: Wakanda Forever
Chadwick Boseman will always be mourned and missed. But where his presence can't be revived, art can celebrate the shadow he continues to cast. This Black Panther does that soulfully and majestically. A sombre gravity rushes through its blood-driven workings throughout. Angela Bassett, Lupita Nyong'o and Danai Gurira steal the show in a run of spirit-seizing performances. After a string of misses, the current phase of the MCU ends on a heroic note.
---
Television
Best of the best
The Rehearsal
"As much as we all love Mel Gibson as a director, he's not the director of this show. And in this show, I get to decide which religion gets featured." Dry humour is well-trod comedy ground, but in this HBO outing, the laughs are sandpaper-dry in the most organic and authentic way. Already, it's joined the gold standard of shows where an intriguing premise is lived up to by its cast in sterling fashion. Nathan Fielder's star is absolutely shimmering.
House of the Dragon
After how shambolically Game of Thrones ended, the bar for this Targaryen spinoff was understandably low. Us fans steeled ourselves; we smartened up, you know? But this first- season run ably shrugs off the curse of its forebear. The world-building
is immaculate; the characters are believably rendered; the action is mostly breathtaking. And dragons—so many majestic dragons.
The Sandman
A lot of what makes The Sandman a hyper- rewarding viewing experience is that the titular character's creator returns to hold the reins. Neil Gaiman's fidelity to the source material he was crucial in creating is palpable. It's unlikely that the complex world of The Sandman—Dream and all the multitudinous moving parts that compose both him and the planes he exists in— would be realised if not for his involvement. Season two can't come soon enough.
Barry
"He's not Jason Bourne or Walter White. He's not a genius. He's a very dumb guy," Barry's creator Bill Hader recently confessed about the lead character he plays. Still, HBO is lucky to have him. Him and his unbelievably off-kilter world, which is almost too perfect for the genre-meld that it's a canvas for, scoff in the face of the traditional mechanics of dark comedy. All the LOLs sting and the pain is profoundly revelatory.
Stranger Things
Netflix's crown jewel hasn't missed. Season four actually takes things up a notch. It begins with the splitting of the payload into two distinct volumes and radiates thence. This time, Hawkins' lovable band of heroes fights the good fight in different locales, including the Soviet Union, reuniting at the close for the defining showdown. Then, there's the Vecna reveal! Also, Joseph Quinn! And Sadie Sink!
The Boys
In 2019, culture didn't know how much it needed The Boys. If you strip away everything—and there's a lot to get through—the essence of the current three-season run can be distilled into the fact that it's an antidote to disingenuous, by-the-numbers superhero fare by its creators Garth Ennis and Darick Robertson. The real-world-ing of 'supes' is high satire, born in and aimed at the amoral morass we're mired in.
Guillermo Del Toro's Cabinet of Curiosities
Let's hone in on the foundation that genre takes root from: story. Del Toro has blessed the ether many times over with his supernatural ability to tell a story. The anthology format is a fitting canvas for his reach here: episodic, impressionistic strokes, throbbing with detail that bites, peopled by characters who serve as the ambassadors of Fate—of what happens when the supernatural becomes natural.
The Lord of the Rings: The Rings of Power
One thing that 2022 made clear is that we are lovers of lore. The Rings is set in a diegetic time that predates two of Tolkien's world-resounding IP, The Lord of the Rings and The Hobbit, but is deeply influenced by how we have come to receive his imagination from the hand of Peter Jackson. Against allegations of diversity washing, this Amazon Prime asset entertainingly foregrounds the mythical vibrations that will rock Middle-earth in the years to come.
Andor
Prequels, soft reboots; the retellings don't stop because there's so much money to be made from pre-existing IP. But we can't blame it all on mercenary capitalism. Andor, which harkens back to the Rebel Alliance's formation, is one of the best things in Disney+'s suite of programmes because its origin-story format is a bristling analogue of the anxiety that pervades the IRL political climate that made a Trump takeover happen once— and loom on the horizon again.
Moon Knight
We like heroes we can empathise with, ones we want to root for the more we know about them. Oscar Issac's turn as the dissociative identity disorder-stricken Marc Spector, who eventually becomes the titular hero, is one of the best aspects of the show's overall presentation. Egyptian gods, the ageless, age-old battle of good versus evil are all well and good. But what's put on a pedestal is a hero we want to see win.
---
This story was first published in the December 2022/January 2023 issue of Esquire Singapore.