Something New Must Turn Up: Six Singaporean Artists After 1965
1965 is a monumental year and a turning point for Singapore. Hence, National Gallery Singapore is featuring six celebrated, post-independence Singaporean artists who'll showcase their innovative craft and practices spanning decades with solo presentations. This exhibition also reflects how these pioneering artists pushed the envelope on Singapore's modern art and contributed to the development of Singapore's contemporary art.
Something New Must Turn Up: Six Singaporean Artists After 1965 runs till 22 Aug at National Gallery Singapore.
Singapore HeritageFest 2021
Stories are meant to be told. Thus, discover a collection of lesser-known yet familiar narratives at Singapore HeritageFest. Tales of food and medicine lead in the festival's 18h edition and first hybrid version. For example, workshops on Eastern medical treatments such as Chinese traditional medicine and Ayurveda will shed light on medical buildings of the past. Food-wise, hands-on demonstrations that give traditional recipes a modern spin via on-site and offline venues.
Singapore HeritageFest 2021 runs till 30 May at various locations, online and offline. Visit the SHF 2021 website for more information on the programmes.
Singapore Mental Health Film Festival
Quarantine and isolation from the 'Circuit Breaker' measures aren't doing any favours for one's mental health. This year's edition of Singapore Mental Health Festival focuses on resilience and recovery with youths producing short films, many for the first time, to raise awareness of mental health. In addition, selected films and panels available online and in-person at the National Gallery Singapore with topics ranging from dementia to suicide prevention.
Singapore Mental Health Film Festival runs till 30th May at National Gallery Singapore and SMHFF Facebook Live page. Visit the Singapore Mental Health Film Festival webpage for more information.
SSO Mother's Day Concert
It's bliss listening to an orchestra or ensemble live but unfortunately, the current rollback to Phase Two robbed us of this opportunity. The show must go on though. Hence, SSO will stream live from Singapore Botanic Gardens Bandstand and perform classics by Mozart, Borodin, Haydn, Monti, Delibes, and the ever-popular "The Moon Represents My Heart" by Weng Ching-Hsi.
The SSO Mother's Day concert will be streamed live on 9 May at 6pm. It will be available for viewing on SSO and NParks Facebook pages.
MO BAR's New Afternoon Tea Menu
The award-winning MO Bar goes from concocting regionally curated cocktails to assembling delights for tea. Featuring six different courses of delectable treats inspired by local favourites such as Black Truffle Egg Mimosa Kueh Pie Tee with Chives and Potato with Citrus Mayo and Chicken Floss, savour them while taking in the sights of Marina Promenade. Of course, there will be scones; in vanilla and chocolate.
MO Bar's afternoon high tea menu is now available at Mandarin Oriental Singapore.
Wikicliki: Collecting Habits on an Earth Filled with Smartphones
Art is no longer restricted to the physical form in contemporary times. Singapore Art Museum's (SAM) latest exhibition presents six artist-curator pairings who'll provide unique insights into a range of issues confronting contemporary practitioners in Singapore today. With a qualitative approach to collecting, organising and interpreting the array of images and data that increasingly govern our everyday lives, art is featured in a new light.
Wikicliki: Collecting Habits on an Earth Filled with Smartphones happens till 11 July at National Gallery Singapore.
Shake Shack Great World City and Jalapeño Ranch Limited Menu
In a blink of an eye, Singapore (already!) has six Shake Shack to date, including its latest store at Great World City. To celebrate this, the popular burger joint introduced a mouth-watering spicy Jalapeño Ranch limited menu. Its signature loaded ShackBurger, Chick'n Shack and Crinkle Cut Fries will be topped with a made-from-scratch creamy, tangy ranch and house-pickled jalapeños.
Shake Shack Jalapeño Ranch limited menu happens till 15 June across all Shake Shack outlets in Singapore.
BOSS x Russell Athletic Showcase
Tailored Sportwear? BOSS is leading this genre. Join them in a showcase at Mandarin Gallery as they reveal their collaboration with American Sportswear brand Russell Athletic in fusing the art of tailoring with the nostalgic storytelling of classic sportswear through a unisex collection. Immerse in this off-court experience modelled after a basketball court and win an exclusive BOSS x Russell Athletic basketball via an AR basketball game available in-store.
BOSS x Russell Athletic showcase happens till 10 May at Mandarin Gallery.
Singapore Chinese Film Festival 2021
Sit back and appreciate acclaimed Chinese films curated by Singapore Chinese Film Festival. Now in its ninth edition, this year's hybrid event features over 40 films and shorts showed via in-cinema and virtual screenings across various locations. Highlights include the opening film, Golden Horse Awards-nominated Hand Rolled Cigarette starring Gordon Lam Ka-tung, and Taiwan's Radio! Ready Oh! and The Painting of Evil.
Singapore Chinese Film Festival 2021 happens till 9 May at various cinemas and online.
Life in Edo | Russel Wong in Kyoto
Past and present intersect at this Asian Civilisation Museum double-bill exhibition in collaboration with Kobe Shimbun and Russel Wong. Featuring woodblock prints and photography that tells stories of traditional and contemporary Japan, famous period Japanese artists used the former to depict the lifestyles and trends of the Edo era while Wong lensed the traces of traditions that still exists in present-day Kyoto.
Life in Edo | Russel Wong in Kyoto happens till 19 September at The Asian Civilisations Museum.
Dale Chihuly: Glass in Bloom
There's a 'new' plant variety appearing at Gardens by The Bay—delicate and fragile, yet immortal. Bringing his garden exhibition to Asia (a first!), American artist Dale Chihuly will sow 25 large-scale installations, as well as more than 80 other sculptures and works from Seattle to the Singapore domes. Highlights include Ethereal White Persians (pictured above) at the Serene Garden and the majestic spherical Setting Sun, and Moon.
Dale Chihuly: Glass in Bloom happens till 1 August at Gardens by the Bay. Tickets are available via Sistic.
Painting with Light
Singapore can be as colourful as you want it to be. Through the eyes of four artists using the new OPPO Find X3 Pro, nature's vibrant colours found in residential areas to intimate portraits of people at night are showcased at Oppo's first-ever photography exhibition that part of their #AwakenColour campaign. These photographs explore light, colour, subject and detail and reveal each photographers' unique and idiosyncratic palette of colours.
Painting with Light — Palettes of Singapore happens till 16 May at ArtScience Museum. Admission is free.
Tiffin Room & Meatsmith Little India collaboration
This unique pairing of American barbeque techniques with North Indian classic favourites only happens at Raffles Hotel Singapore's Tiffin Room. Helmed together by Chef Kuldeep Negi of Tiffin Room and Kurt Sombero, Head Chef, Meatsmith Little India, the curated menu features a delicately spiced Cured Fish Biryani Nigiri; Ikura Papadum, an artful medley of textures and spices; and Curried Granita Carabinero. The vegetarian alternatives are sumptuous too.
Tiffin Room x Meatsmith Little India menu happens till 6 May at Raffles Hotel Singapore.
Human x Nature: Environmental Histories of Singapore
Before Singapore's current urban garden city identity, it was filled with lush vegetation and home to various wildlife. Thus, revisit the country's origins and trace the history of Singapore's natural environment and how our present-day relationship with it matters. More than 150 books, maps, illustrations and manuscripts on Singapore's biodiversity will surely reveal more about this legacy. All thanks to the National Library and National Archives of Singapore.
Human x Nature: Environmental Histories of Singapore happens till 26 September at the Level 10 Gallery, National Library Building. Admission is free.
The Office, Disrupted
It's already a year since the implementation of 'Circuit Breaker'. How has it specifically altered workflows and business processes? The Office, Disrupted is an exhibition designed to provoke discussion about the shifting definition of the workplace. This experiential journey will take visitors through the evolution of the office to a future of hybrid work. Visitors will also have the opportunity to experience hybrid working for themselves at a HybridWork Lab.
The Office, Disrupted happens till 13 May at National Design Centre.
The Curious Case of the Missing Peranakan Treasure
Cluedo, but make it a Singapore phygital version. Raffles Hotel Singapore teamed up with Double Confirm Productions and Sight Lines Entertainment for a virtual interactive detective mystery set in the Singapore iconic hotel. Written by award-winning playwright Jean Tay and directed by critically acclaimed actor/director Hossan Leong, participants can investigate through virtual gameplay on-site or during their stay at the storied hotel.
The Curious Case of the Missing Peranakan Treasure happens till 30 June. Tickets are available on SISTIC and Raffles Hotel Singapore's website.
The Sea Show
The sea is an important avenue for world trade (ie. the recent Suez canal incident). Hence, the Maritime and Port Authority of Singapore (MPA) commissioned EYEYAH! for an ocean-focused multi-media exhibition in conjunction with the Singapore Maritime Week (SMW) 2021. The colourful presentation celebrates all things briny while identifying its threats. In addition, there's a special section with artworks created by artists from Pathlight School's Artist Development Programme.
The Sea Show happens till 13 July 2021 at the Singapore Maritime Gallery, 31 Marina Coastal Drive, Singapore 018988.
Maison Marie
Both a bistro and specialty grocery store, the latest addition to the Bukit Timah estate keenly focuses on all things French. You can expect flights of decent oysters imported from France, a delectable Octopus Bolognese and Whole Mediterranean Seabream amongst an array of Western European dishes. Plus, a quiet dining spot to chill away from the city bustle.
Maison Marie is located at The Rail Mall, Singapore 678040.
Goodman Open House
This year's digital edition is free for all and even brings the lush greenery surrounding the physical space onto the virtual platform. Reactivated and redesigned, the community farm has become a source of inspiration for resident artists, expressed through a series of five digital videos. Discover various approaches to dance or explore the digital gallery featuring highlights of the artists' journey. Otherwise, gander the grounds which remain open to visitors.
Goodman Open House happens online until 31 December.
A Voyage of Love and Longing
Learn about the diverse natural history of the region through these 19th century drawings alongside Malay pantuns (rhyme quatrains), classical texts and love ballads. The rich Malay literature include excerpts from prominent writers and musicians ranging from Amir Hamzah and Abdullah bin Abdul Kadir, to Ella and Saloma. Further interact with the collection with a choose-your-own-adventure online game that mirrors the narrative of voyages.
A Voyage of Love and Longing happens 10 am – 7 pm at Goh Seng Choo Gallery, National Museum of Singapore.
The Macallan Experience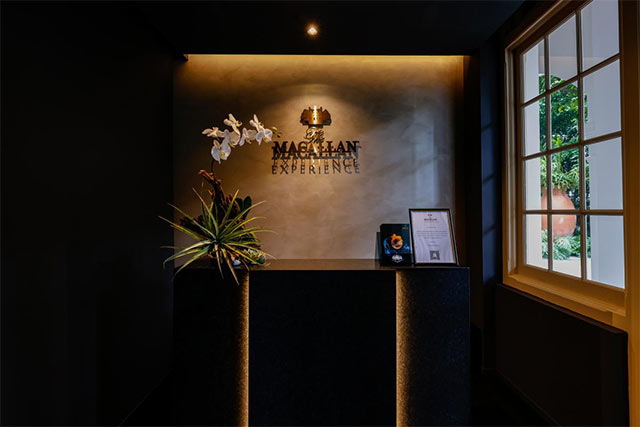 The luxury single malt scotch whisky has prepared more than one way to reacquaint you with its craft. Encounter the dram through an interactive kinetic art installation inspired by The Macallan Six Pillars, a sensory cinema of the Sherry Oak and Double Cask expressions, kick back at the dedicated lounge or make a booking for the exclusive private dining sessions curated by Executive Chef of Raffles Hotel Singapore Pierre Burgade together with his team of Chefs de Cuisine.
The Macallan Experience happens until 9 May at Raffles Arcade #01-04, Singapore 188719.
STAR WARS™ Identities
Hey nerds, Find close to 200 original items from the extensive Lucas Museum of Narrative Art archive in the final stop of this exhibition's global tour. Embark on a customised, interactive identity quest on the franchise's characters from the actual Stormtrooper costumes to model of the Imperial fleet: Star Destroyer—all authentic props, and artworks that spans the entire universe.
STAR WARS™ Identities happens until 13 June at ArtScience Museum.
Once Upon A Time on The Orient Express
Catch Paris' renowned luxury Orient Express, another first in Asia and a result of six years of planning. The travelling exhibition of objets d'art, archival documents, movie extracts and more that reference different stops on the train's past itineraries also avails gourmet car dining and a familiar escape room. Read more about the full experience here. Tickets can be purchased through the Orient Express online booking platform and Sistic.
Once Upon A Time on The Orient Express happens until 13 June at Gardens by the Bay's West Lawn.