It's that time of the year again where the outskirts of town transform into an interactive light show that binds heritage and art together. We imagine it can get overwhelming with the abundance of activities available, so it's good news that you can now create your own Singapore Night Festival trail! View the full programme line up here.
Singapore Night Festival happens until 31 August, 7:30 pm – 12 am at Bras Basah and Bugis.
Step up your usual barbecue by attending an inaugural backyard party at Dempsey Hill instead. Get platters hot off the grill, including the Grilled Crayfish with Crustacean Belacan, Jaew Marinated Chicken and a Sichuan Mac & Cheese. And that's with a side of cocktails, cold beers and bubbly. Cheers to the damn weekend.
Backyard BBQ and Beats happens 25 August, 11:30 am – 9 pm at SIRI HOUSE, Singapore 249672.
If you can confidently say you've got strength down, it's time to start working on your flexibility. Pure Teacher Daria Soloveychik is hosting a weekend workshop targeting increased mobility and reduced tension in the body, focusing on different areas of the body each session. Contact the studio to register.
Stretch Your Limits happens 24 – 25 August across three time slots at Pure Yoga Suntec City. 
How would you like a say in the best cocktail that represents Singapore? Be amongst the first 200 guests at Keong Saik that evening to get a complete complimentary taster kit of the seven cocktails from island's leading bars—Alchemist Beer Lab, Anti:dote, Fat Prince, Jekyll & Hyde, Jigger & Pony, The Monarchy, Tippling Club—and a chance to vote.
Singapore Iconic Cocktail Competition happens 23 August, 7:30 – 11 pm at Neon Pigeon, Singapore 089109.
Potato Head Singapore is inviting you to celebrate their fifth anniversary in a truly special way. Partnering with the good folk at Seven Clean Seas and bringing their resident DJs, this meaningful event also allows you to become unofficial members of the Potato Head family and walk away with a limited edition Potato Head Keyring that entitles to a 10% dining discount.
5th Anniversary Beach Clean Up With Seven Clean Seas happens 24 August, 9 am – 1 pm at Constant Wind, Singapore 499740.
You've seen the cartoon and the movie, now watch 'Friend Like Me' and 'Arabian Nights' amongst the enchanting musical numbers performed live. The Disney classic is produced from the same team behind The Lion King, so expect the impressive sets, special effects, lavish costumes and stellar cast bring you into a whole new world.
Aladdin happens until 1 September at Sands Theatre at Marina Bay Sands.
Remember The First Monday in May? Okay fine, Rihanna's iconic yellow gown for Met Gala 2015? See the dramatic, sculptural masterpieces of China's forefront couturière Guo Pei before your very eyes. It may just be the best way to enjoy imperial art and mythology through the elaborate embroidery of culture.
Guo Pei: Chinese Art and Couture happens until 15 September at the Asian Civilisations Museum.
In honour of the first hot air balloon that lifted into the sky three centuries ago, the poetic and playful exhibition explores the world in the clouds through 40 artworks of inflatable objects in social history.
Floating Utopias happens until 29 September at ArtScience Museum.
---
PAST EVENTS:
Presented by Collective Minds and Kampong Boogie, the event has its name spelled out for you. Nosaj Thing (of Kendrick Lamar and Chance The Rapper fame) makes his highly-anticipated return to Singapore alongside London party twins YETI OUT, with CÉ LA VI's Ramesh and MC SWTLKR.
No Standing Only Dancing happens 16 August, from 11 pm at TUFF Club, Singapore 068906.
The Singapore River Festival continues with live performances by local acts Tim De Cotta, Yung Raja, Theodora, and more. And not without pop up food kiosks from Chupitos Bar, Harry's Bar, Get Juiced and Le Noir. Fill up on locally-inspired festival foods rendang pizza, teh tarik shooters and kopi peng cocktail as you ready for the after party.
STREAM happens 16 – 17 August, 7 pm – 12 am at Clarke Quay Fountain Square.
Here's your option of hanging around a crowd without it being such a scene. Classic to new, funny to thought-provoking; this year's array of movies leave you spoilt for choice. Watch under the stars with good food and good booze, so book fast because tickets are selling out.
Films at The Fort happens until 18 August, 7:45 pm at Fort Canning Green.
There are expectedly many parties going on (say hi to Lil Jon at Marquee for us) with the National Day theme, but on the evening of the day itself? The parade, fireworks, and flypast will surely feel different 71 stories above the Padang, together with a bevy of local snacks and inspired cocktails.
DISCO LAH! happens 9 August, from 4 pm at Bar Rouge Singapore.
This stanza is going to be free from song title puns, promise. Just announcing the one-night chance to catch the 20th anniversary (yes, you're old) of one of the OG boybands and re-live the nostalgia.
Westlife The Twenty Tour happens 10 August, from 8 pm at National Stadium.
Our tiny island's tiny island always has something going on. This time, every weekend until the extended National day and Hari Raya Haji holiday, feast on the over 130 food options spread over open fire, with seabreeze and a view. Don't forget to try out Siloso Saison Blanc brewed exclusively by Brewerkz for Sentosa.
Sentosa Grill Fest happens until 12 Aug, 4 – 11 pm at Siloso Beach.
424 / 99 Percentis / A-Cold-Wall / Adidas / Alchemist / Ambush Design / Aprix / Area Nyc / Astrid Andersen / Buscemi / Christian Dada / Common Projects / Converse / Damir Doma / DSTM / En Noir / Eugenia Kim / F.C.R.B / Faith Connexion / Fear Of God / Filling Pieces / Fxxking Rabbits / Geoffrey B. Small / GMBH / Gosha Rubchinskiy / Greg Lauren / Haculla NYC / Headporter / Heron Preston / Hyein Seo / John Undercover / Lover / Maison Kitsune / Maison Margiela / Marcelo Burlon / Mastermind Japan / Mindseeker / Mountain Research / Murmur / Nanamica / Nasaseasons / Neighborhood Nike / O.A.M.C. / Off-White / Omnigod / Palm Angels / Public School / R13 / Raf Simons / Sam Mc London / Sankuanz / Satisfy / Song For The Mute / Sophnet / Stampd LA / Sue Undercover / Thom Browne / Undercover / Uniform Experiment / Unravel Project Vanquish / Viktor & Rolf / Visvim / Wtaps & more
Surrender Bazaar happens until 4 August, 10 am – 10 pm at Ngee Ann City Tower A, #05-05A.
We get it, National Day is coming. We gave you where to escape, where to eat, where to watch the fireworks. Now here's where to shop all the local goodness.
SINGAPASAR happens 2 – 4 August, 11 am – 9 pm (from 4 pm Friday) at National Design Centre.
What sort of monster are you if you don't love cats? No we're kidding (but not really). If you're #TeamCat, rejoice because SCF is back with local and international cat product vendors, artists, and activities to celebrate our feline friends and indulge ourselves with all that kitty goodness.
Singapore Cat Festival happens 27 – 28 July, 11 am – 9 pm at Great World City.
Step back into the Colonial Era with iconic food and performances from the '30s. Themed 'Savour Singapore in Every Bite', have a go at early immigrant influences and authentic ethnic dishes, all for just 50 cents!
50 Cents Fest happens 27 – 28 July, 11 am – 11 pm at Chinatown Food Street.
Wonder what goes into making a successful runway show? Be in the know and pick up new skills with Buro. Singapore, who has founded a pop-up institution in partnership with Textile and Fashion Federation Singapore (TaFF) t0 provide fashion insights through a series of intimate classes and panel discussions. The first of three workshops focuses on the impact of fashion weeks and delivering a smooth runway presentation.
Buro. Academy 2019 happens 27 July in TENCEL™ Studio at Design Orchard.
Overlooking the manmade beauty of our bay area, the Esplanade is a great place to hang out any evening of the week. For this month only, see a line up of over 30 performances and masterclasses. Enjoy soulful improvisations, swinging rhythms, infectious grooves and y'know, all that jazz.
Jazz in July happens in the month of July at Esplanade Concourse and Outdoor Theatre.
FOOD. Yes, that got your attention. This year's edition of Singapore Food Festival cooly coincides with our nation's Bicentennial shenanigans, so all the more celebration of local chef collaborations and culinary innovations. SFF is headlined by Streat, which sees the guys from The Feather Blade, Artichoke, and Origin Bar among the amazing lineup of vendors.
Streat happens 12 – 13 July, from 5pm at The Promontory @ Marina Bay.
Haji Lane's famous vibrant Mexican establishment is throwing a proper fiesta. Meaning food and drink will be enjoying special promotions, including tacos and Margaritas for SGD10 each. Oh, and free tequila shots for the first 100 there.
Latin Fiesta happens 13 July, from 5 pm at Piedra Negra.
Tiger has hosted multiple street food festivals and pop ups, but this is the brand's first ever district party. Celebrating the various heartlands of our tiny country, the 20 limited-edition bottles are the ultimate rep of your 'hood. As usual, local foodie favourites and music acts will be making an appearance for the perfect party pairing.
Tiger District Party happens 6 July, 5 – 10 pm at BUNKERBUNKER, 120A Prinsep Street.
No better name for a competition that pushes your limits and puts your money where your mouth is. This year sees four challenges designed around battle ropes, and if that's not enough, participants can now compete in the new Elite Category with increased intensity. Cash prizes and other limited edition prizes to be won by the top two male and female athletes.
Under Armour's Test of Will happens 6 – 7 July, 10 am – 8 pm at Suntec City North Atrium.
PRINT IS NOT DEAD. Explore the medium of publishing as a research space through conversations with The MIT Press and ArtReview Asia amongst the prominent lineup of panels. You can interact with the printed ephemera in installations like The Zine Library, immersive sound experiences, and diverse selections from over 90 local and international exhibitors.
Singapore Art Book Fair happens 28 – 30 June, 12 – 8 pm at NTU Centre for Contemporary Art Singapore Exhibition Hall, Gillman Barracks.
It's been a full year of '80s-fueled weekends, capsule machines and old school games with this retro arcade bar, so for its first anniversary weekend, expect endless nostalgic jams with resident DJs Ollie'des, YA5TH and Bobos. Raise your dedicated anniversary drink and pay tribute to your beloved boybands and cult-favourite ballads.
The Wonder Year happens 29 – 29 June, from 9 pm at NINETEEN80.
If you ever wanted to shop in a club, be happy to know Bar Rouge will be hosting its first ever boutique fair. Fill your bag (BYO) with sustainably-oriented lifestyle goods, fashion accessories, and food and beverage 71 stories above ground. Don't forget to keep your eyes peeled for giveaways leading up to the event!
L'Atelier Rouge happens 30 June, 12 – 6 pm at Bar Rouge.
The people who brought us Sake Kasu Dry Aged Beef and Australian Charolais Angus Beef are back with Brandt Beef this time. Enjoy sustainably-raised, top-ranking red meat like the Salt Brick Grilled Bone in Ribeye, complemented with unique house sauces, amongst the four exclusive dishes available this period.
World Meat Series happens until 30 June at Bedrock Bar & Grill.
How often does a club lounge partner with the Embassy of France to throw a party? Just this one night, CE LA VI is bringing in the worldwide cultural event with French Electronic music trio Télépopmusik and local act JB. Show up and you might just be featured in a video of each participating city's party broadcasted at the Eiffel Tower.
Féte De La Musique happens 21 June from 10 pm at CÉ LA VI.
This International day of Yoga, Pure Yoga occupies the outdoor gardens for you to breathe, stretch and meditate the stress away. Through three unique classes including partner yoga, all you have to do is bring your mat and be early.
#YogaForAll happens 22 June, 9:30 am – 3:30 pm at Hort Park.
A "hummus infused partnership" for "re-injecting sporadic doses into the local stratosphere" is pretty much what Juicy is about. That and a sliced watermelon, stuffed with tahina, chickpeas, lemon, a pinch of salt, pepper, cumin, and chilli flakes. Curious? The pseudo hush hush event is by invite only (psst: click the link above).
Habouji Presents Juicy happens 14 June, from 10 pm at [redacted].
You know this; no cash, no cards, just good ol' cucumbers. Back bigger and better with 42 bars islandwide, your humble fruit/vegetable is valid  legal tender for a delectable Hendrick's & Tonic during 'Cucumber Hour'. Redemptions are limited to 60 per bar and one per customer.
Hendrick's Cucumber Day happens 14 June, 7 – 10 pm across participating bars.
Axwell, Martin Garrix, Skrillex, bright lights, fireworks, sick beats and dope drops. Get your tickets here.
Ultra Singapore happens 8 – 9 June at Marina Bay Sands.
You know Ice Cream Sundays, you know Haw Par Villa, but how does a mash up sound? Together with Mugic, get ready for a bizzare party with good food, music, a trippy dance floor and of course, another social mural to be a part of.
Ice Cream Sundays x Mugic: Haw Par Thrilla happens 8 June, 3 – 10:30 pm at Haw Par Villa.
We could go on about Andrew Lloyd Webber's most successful musical in entertainment history that has played over 150 cities, won 70 major theatre awards, and features a 37 strong international cast joined by a full 11-piece live orchestra, but you already know all that, don't you?
The Phantom of the Opera happens until 8 June at Sands Theatre at Marina Bay Sands.
Time, A Hermès Object
More than just fleeting moments, time includes emotions and signifies the fragments of life. Control and approach it in a child-like manner to discover the essence of horology using Arceau L'heure de la lune, Galop d'Hermès, Carré H and Cape Cod in this temporal space.
Time, A Hermés Object exhibition happens until 2 June at Ngee Ann City Atrium, Level 1.
What happens when you encounter something that's blatantly aggressive or provocative and impossible to ignore or avoid? Featuring works by emerging and established pop and street artists that include Banksy, Mojoko, and Whatshisname, this exhibition will make you wonder if Mickey is playing Russian Roulette or just shooting blanks for fun.
#InYaFace happens until 1 June at Tanglin Shopping Centre #02-41.
Esplanade's imaginative performance festival is back with art and sound installations by local and international artists. From circus arts to interactive smartphone orchestra, experience a different side of life on the flipside.
Flipside 2019 happens until 2 June across various locations.
New lounge and bar fashioned after Mr. P's musical past and present will feature two live music nights, each with Singapore's top jazz serenaders performing with their musician counterparts. For its debut, expect sultry covers of popular favourites from Ella Fitzgerald, Frank Sinatra and Diana Krall.
Maduro Opening Weekend happens 24 – 26 May at 40C Harding Road Singapore 249548.
The 16-bout mega card will see Lightweight World Champion Shinya Aoki defending his title against Singapore's Christian Lee as the main event, a highly anticipated match between two Dutch legends, and the ONE debut of ex-UFC Sage Northcutt amongst other highlights.
ONE: Enter the Dragon happens 17 May, from 5 pm at National Indoor Stadium.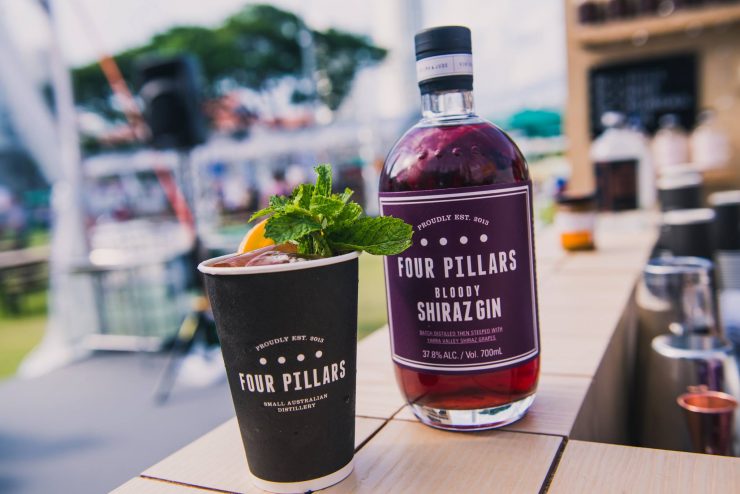 Now that we know who placed on Asia's 50 Best Bars and the official Gin Partner, let the annual cocktail celebration begin. Get the best out of the festival here.
Singapore Cocktail Festival happens until 18 May across various locations.
Change up your cinematic palate from the usual mainstream blockbusters with the best of contemporary European films, from historical dramas and biopics, thrillers to documentaries. Featuring 27 titles, you are definitely spoiled for choice.
European Union Film Festival happens until 19 May at National Gallery.
Whatever LuLu does, she does it big. You want a Monaco, James Bond-themed night? You get a giant-sized dice, playing cards, and many more surprises for the glamorous casino-style black carpet affair, which will see separate sets of international entertainment from jazz to burlesque each night.
LuLu Does Monte Carlo happens 10 – 12 May at LuLu's Lounge.
No better way to experience summer evening than at an outdoor cinema. With 14 films to pick from (or less, now that the award-winning titles have been fully booked), enjoy live music as the sun dips before settling into you deck chair under the stars.
Peroni Sunset Cinema happens until 15 May, from 5pm at Tanjong Beach.
Beef lovers rejoice. No really, drop everything and rejoice. Award-winning Japanese steakhouse Fat Cow has granted your wishes and released a limited spread on the Nagasaki Wagyu in Omakase-style for the very first time. In a variety of techniques from charcoal-grilling to steaming, experience beef like never before.
Haru Matsuri seasonal menu is available until 12 May at Fat Cow.
View this post on Instagram
What's a binaural anti-musical, you ask? You'll just have to go and see hear. Conceived, written and performed by Inch Chua on her recent expedition to Antartica, it's a journey to the seventh continent of the world that questions and challenges life beyond the subzero desert. '
Til the End of the World, We'll Meet in No Man's Land happens until 4 May at 72-13, TheatreWorks.
Jump in on the 12 hour FitnessConcert of mass workouts led by fitness celebrities and professionals, or enter the 10 Arenas to have a go at everything from Aerial, Bouldering, Boxing, Calisthenics, CrossFit, to Spin, Yoga, Pilates—you name it, they have it.
FitnessFest happens 27 April at B2 Expo Halls, Marina Bay Sands.
The consumer tradeshow that needs no introduction is back this weekend. Bringing back specially invited overseas and regional designers, it's otherwise the best way to discover new brands and get your hands on items unique to you.
Public Garden happens 27 – 28 April, 1 – 7 pm at Suntec Singapore Convention & Exhibition Centre.
It might just be an understatement to say that the new nightlife destination is going over the top for its launch. Spend the first night with none other than Tiësto, followed by a second night with Afrojack accompanied by the no longer hush-hush special guest, A$AP Rocky. As the saying goes, go big or go home.
Marquee Singapore Grand Opening happens 12 – 13 April at 2 Bayfront Avenue #B1-67, Singapore 018956.
The ninth edition of this globally-recognised on-water exhibition gives all nautical lifestyle seekers an unrivalled opportunity to discover some of the world's finest superyachts and boating brands in an elite and highly social setting. If that's too much of a mouthful, just think—#ballin'.
Singapore Yacht Show happens until 14 April at ONE ̊15 Marina Sentosa Cove.
Pet owners, be delighted to know there's a one stop shop of pet products and services this weekend. Catch educational talks, performances and best of all, partake in engaging pet-focused competitions. Pet lovers are not left out. Start your journey at the adoption drives by pet welfare organisations.
Pet Expo happens 12 – 14 April, 11 am – 8 pm at Singapore Expo Hall 7.
The Earth is dying, #staywoke. In this zero waste festival, experience how reusability isn't just recycling plastics, but a fun introduction into a sustainable lifestyle. Grab an Impossible Burger by Bread Street Kitchen, enter Nature's Maze, or catch performances by musical guests ushering the countdown to lights out. Fun fact: the event infrastructure is made of locally recycled materials, which will then be upcycled into furniture after the event concludes.
Earth Hour 2019 happens 29 – 31 March at Marina Bay Sands Event Plaza.
Ever wondered what 150 gifs on giant LEDs, vertical and floor screens look like? Now you'll finally get your curiosity sated. Along with touch interactive installations, magic mirrors, AR face transformations, and a GIF cinema, you can also catch VJ music performances or just chill out with a beer on the bean bags. View the programme lineup here.
Gif Fest happens until 1 April, 12 – 10 pm at Gillman Barracks.
You can also put your fitness to the test at the signature SPARTAN obstacle courses in the heartlands. Learn exclusive tips from dedicated SPARTAN coaches at the adult race and clock in practice for game day itself. Drop in at SGD10 or get unlimited access at SGD60.
Spartan Obstacle Pop-up happens until 31 March at AMK Hub.
Succinctly put, the Music, Makan and Market is everyone's ideal wholesome, weekend hangout. The passion project of DJ Zig Zach and Jade Amar is exactly as you picture it—House music, specialty crafts and bakes, unique interior decor and fashion merchandise, and of course, hearty roasts from the club itself.
Sunday Social Market happens 24 March, 12 – 10 pm at Camp Kilo Charcoal Club.
This long-running, large-scale event is back. Lighting up the heart of bayfront, the carnival boasts new rides to an already extensive list. Plus, with exciting programs lined up every month like crazy food challenges and more, we're sure the thrills would be worth wait…
Prudential Marina Bay Carnival happens until 24 March, 4 – 11 pm at Bayfront Event Space.
Ah Pat or ex-Pat, all are welcome to celebrate this big green event. Play street games, enjoy vespa tours, belt out at pop-up KTVs and drink all the Guinness! Of course, the Patricks and Patricias get special perks, but all are able to get vouchers just by signing up. Can't wait? Join the pre-party going on today from 6 pm at Far East Square and China Square.
Guinness St. Patrick's Event happens 15 – 17 March, from 5 pm Friday and 12 – 10 pm weekend at Circular road.
Design is a more integral part of our lives than we realise. With over a hundred activities and interactive installations to choose from, learn how to harness design for your business, community and future. Read our listing of programme highlights.
Singapore Design Week happens until 17 March at National Design Centre.
Everybody loves Monopoly right? The family-friendly game that either makes or breaks ties. Now the stakes are raised with brunch on the line. Pass customised tokens and game board squares all while savouring an extravagant Champagne brunch. Prices start from SGD298, every reservation of four will receive The Ritz-Carlton, Millenia Singapore Monopoly bespoke game.
Superbrunch Singapore Monopoly Game Edition happens 17 March, 12 – 3.30 pm at The Ritz Carlton.
Called by The Daily Telegraph as "the finest big band in the world today" and helmed by nine-time Grammy-winner Wynton Marsalis (also the first-ever jazz artist to receive the Pulitzer Prize), this is two nights of impeccable jazz not to be missed. Jazz Jams and a masterclass are also available on the days itself and the morning after respectively.
Jazz at Lincoln Center Orchestra happens 8 and 9 March, 7.30 pm at Esplanade Theatres.
The region's first and only carbon-neutral music festival in a park is back for its fifth edition. Now at Fort Green to accommodate a larger audience, look out for The Kooks, Alina Baraz and Black Coffee in the line up. Besides Conscious Circle talks and eco-workshops, party on into the festival's Midnight Rave at CÉ LA VI.
Garden Beats 2019 happens 9 March, from 1 pm at Fort Canning.
You know it's a good time to be alive when you can have free steaks on a Saturday. No typo there—free steaks for all. The pop-up steakhouse begins its eight weekend foray by launching this weekend and blessing us all with complimentary shoulder cut also known as the Flat Iron. What a time to have beef with everyone.
The Feather Blade pop-up happens 2 March, from 5.30 pm at Zui Hong Lou.
Attention all Singaporeans: your one pass to indulge your foodie impulses is here. Enjoy a curated, riveting repertoire of multi-cultural food from famous Hawker establishments like the legendary Tai Was Pork Noodle to the kitchen of Michelin-starred restaurants like Burnt Ends all under one roof.
Michelin Guide Street Food Festival happens 22 – 24 February, 5 pm at the Coliseum, Resorts World Sentosa.

Dawn Ng's sold out run of 11 – A Performance Piece reaches its end on Valentine's Day, get your last shot at the 'confession booths' as Mr. Has spins joyful '70s tunes. Of course, complete your night with #ArtsClubSpecials Chi11i Crab Sliders and Penici11in.
11 Ends: A Singles Afterparty happens on 14 February from 9.30 pm at Telok Ayer Arts Club.
If you want good pasta, you go to Italy. Likewise, if you want to feel the full force of Chinese New Year, you go to River Hong Bao. Here's an overview of the scope: 11 giant lantern structures, a life-size junk boat exhibition, its own family-friendly carnival and competitions you can freely participate in. And the fireworks. My god the fireworks.
River Hong Bao 2019 happens 3 – 10 February, 2 – 11 pm at The Float @ Marina Bay.
If you've cultivated a taste for flavoured Jim Beam Highballs from their pop-up event last year, you'll be glad to know that you can get them at just $8 this Saturday—or completely free if you RSVP. Once again, you can get more free runs by trying your hand at the Jim Beam game booth.
High on Highballs! happens 26 January, 8.30 – 11.30 pm at Hej Collective.
Good news for those who want to head to France this holiday but didn't quite finish your last minute planning. Explore the country from the 17th century and beyond entirely through the digital realm. Relive the finest in French art, culture and history in an interactive, and needless to say, beautiful exhibition.
Virtually Versailles happens until 6 January at ION Art Gallery.