Singapore Art Book Fair
Sadly already fully booked, you can still keep your fingers crossed for walk-ins which are strictly allocated on a first come first serve basis. Hosting more than 70 publications across two locations, this year's edition features an 'Adopt-an-Exhibitor' programme to match international artists with local ones to expand the array of books and other printed ephemera despite global travel restrictions.
Singapore Art Book Fair happens 5 – 7 March, 12 – 8 pm at NTU Centre for Contemporary Art Singapore and 72-13.
Sunday Social (Distancing)
Yes, it's still happening. By that we mean love for local brands as food, music, and lifestyle products come together at Sing See Soon this Sunday. Shop sustainable brands and creative products, plus Ol' Disco House playlist selected by resident DJs.
Sunday Social (Distancing) happens 7 March, 11 am – 6 pm at 5 Simei Lane, Singapore 528710.
SeptFest 2021
You've heard the news about The Substation. Before it all disappears after its three-decade run, you can still catch its existing projects. Here, a continuing exploration of Room 0505 from 2020, OEOS unfolds the Year 2030, a future that operates differently ever since the pandemic.
SeptFest 2021 happens 4 – 6 March, 8:30 – 9 pm at The Substation.
Sky High Hawker
Way past the half-year mark of its running and an obvious tell of its success, the 57th floor restaurant collaborates with Meatsmith's Kurt Sombero, Tsuta's Ueda Tsuyoshi and more this month. Don't miss out on Head Mixologist Andrew Hyman's new signature cocktails—all light for multiple takes—and the monthly-changing Bartender's Handshake, special concoctions showcasing a favourite spirit with flavours of the season.
Sky High Hawker happens 6 – 7 March, 12 – 10 pm at CÉ LA VI Singapore.
Picturing the Pandemic
Not the happiest collection to visit, but certainly a highly relevant and historically significant one, the work of five local photographers and two filmmakers visually document COVID-19 and its impact on Singapore. Should you have a piece to contribute, the commissioned project has extended its public call for objects and related creative responses until 30 June to further paint a resonant portrait of our nation amidst crisis.
Picturing the Pandemic happens until 29 August, 10 am – 7 pm at National Museum of Singapore. 
Salvatore Ferragamo Historical Archive
As virtual tours go, this is one is stylish. Explore 360° high-definition info points, videos and detailed charts of the brand's new, specially renovated location above the heart of Ferragamo shoe production. You'll find creations of the original visionary himself and the archive built up by his daughter Fiamma; including documents, patents, prototypes and products up from the 1920 all kept in the highest standards of conservation.
Salvatore Ferragamo Historical Archive happens online.
Big Bad Wolf Book Sale
The world's biggest online book sale returns with over 60,000 titles on up to 95 percent discounts. Stocked with all genres spanning science fiction to self-help, graphic novels to business books—and of course the bestsellers—register early for a preview sale starting tomorrow.
Big Bad Wolf Book Sale happens online until 5 March.
Tiffin Room x Samy's Curry
For the first time, Raffles Hotel's Tiffin Room is collaborating with beloved family-run restaurant Samy's Curry. The limited-time menu presents the best of North and South Indian culinary that's deeply rooted in traditional cooking techniques and authentic flavours. Expect a feast of starters like Tandoori Prawn, establishment favourites like Aloo Masala, and signatures Scallops Curry and Tiffin Dal Makhani. You end the night with decadent sweet treat Rajbhog with Chocolate Jalebi for both vegetarian and non-vegetarian sets.
Tiffin Room x Samy's Curry happens until 10 March, 12 – 2 pm and 6:30 – 9:30 pm at Raffles Hotel Singapore.
Something, Somewhere, Somewhen
Mural artist Yip Yew Chong whose works have highly likely caught your eye on the streets is holding his first solo exhibition. Nine triptych paintings on canvases and 15 sets of everyday objects inspired by the famed murals themselves are housed in a gallery setting. Strongly Singaporean through and through, it will surely evoke a sense of poignant nostalgia from a moment in your memory.
Something, Somewhere, Somewhen happens until 14 March at Art Porters Gallery, 64 Spottiswoode Park Road.
Huayi–Chinese Festival of Arts
Besides catching the first-ever digital Chingay as part of the ongoing festivities, you can tune in to both ticketed and non-ticketed line-up celebrating Chinese arts. One of the four annual cultural festivals of Esplanade, the specialised showcase spans theatre, dance, music and more across both traditional and contemporary expressions.
Huayi–Chinese Festival of Arts happens until 14 March at Esplanade, Theatres on the Bay.
Battle For Singapore
Last year—and continuing well into this one—unintentionally became the first time we started to get very acquainted with our own country (thanks SingapoRediscovers). But how well do you know the Fall of Singapore? The 79th anniversary of this significant hallmark in history, NHB has organised a series to learn about the events with WWII-themed guided tours, talks and museum programmes.
Battle For Singapore happens every weekend until 14 March across various locations.
Days — and counting season 2
The second of OH!'s three-part digital walk on the pandemic, The Distance Between Us plays with how we maintain old and find new relationships in the current reality. Told in an entirely digital format by seven local artists, audiences will continue the story of the Sleeping Man (from Season 1) over four episodes, each only available for a week at certain times to enhance the viewing experience.
Days — and counting Season 2 happens online until 19 March, beginning on 19 February at 6pm.
The [Not-So] Convenience Store
Inconvenience never looked so good. And surprise, surprise, it goes a long way. In this effectively themed store, drop off used electronics or excess shopping bags, learn the true cost of the lifestyle our society has been accustomed to, and purchase their sustainable alternatives (just please, don't only use them once).
The [Not-So] Convenience Store happens until 30 March, 9 am – pm at National Design Centre level 1, Singapore 188969.
GetWagyu
Let's save our noble Meatless Monday endeavours for the day it's assigned to because The Japan Livestock Products Export Promotion Council (J-LEC) has kicked off its Japanese Wagyu Fair here in Singapore. To exemplify the use of its authenticity QR code implemented on all their products worldwide, a quick scan will reveal the pedigree and history of the purebred, inclusive of the registration certificate issued, where it was born and raised. J-LEC is also giving a chance to redeem a sample of Wagyu beef when you post pictures of the dish from participating restaurants and grocers with the hashtag #GetWagyu and answer a questionnaire.
GetWagyu happens until 31 March across various locations.
Got to Move
Explore movement once again, this time through the digital space with the sixth edition of this dance-centric event. Play with award-winning street dance duo ScRach MarcS' take on 'Dance Dance Revolution' with AR Instagram filters, or take an interactive journey fusing sound and visual animation through XITY's unique interdisciplinary performance. You can also catch the many dance programmes available by the pool of homegrown talent.
Got to Move 2021 happens online until 31 March.
A Voyage of Love and Longing
Learn about the diverse natural history of the region through these 19th century drawings alongside Malay pantuns (rhyme quatrains), classical texts and love ballads. The rich Malay literature include excerpts from prominent writers and musicians ranging from Amir Hamzah and Abdullah bin Abdul Kadir, to Ella and Saloma. Further interact with the collection with a choose-your-own-adventure online game that mirrors the narrative of voyages.
A Voyage of Love and Longing happens 10 am – 7 pm at Goh Seng Choo Gallery, National Museum of Singapore.
For Art's Sake – Shaken & Stirred
Gallery hopping gets a new meaning now that local creative community GOFY has put a spin on it. Getting 50 artists from six different Southeast Asian countries to reinterpret familiar Western masterpieces, the 62 new works are spread across homegrown venues NINETEEN80, The Projector and more. Besides supporting the Singaporean scene, visitors will also receive an exclusive code entitling to SGD50 off art purchases.
For Art's Sake – Shaken & Stirred happens until 2 May across 13 locations.
Diver(sea)ty
At the Esplanade, take a gander at the vibrant installation by Indonesian artist Mulyana. As a response to the pandemic's impact and ever-increasing need to embrace diversity, the psychedelic underwater world prompts a reflection on inclusion and our collective responsibility to look after the earth and its resources. Each marine creature is impressively crafted out of crochet and make for a sight to behold.
Diver(sea)ty happens until 2 May at Esplanade Concourse, Singapore 038981. 
The Macallan Experience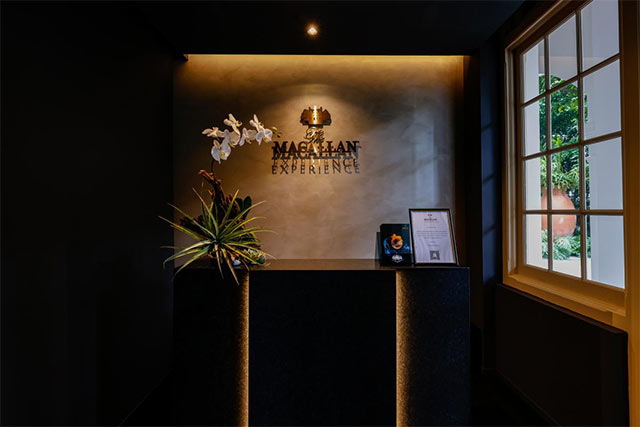 The luxury single malt scotch whisky has prepared more than one way to reacquaint you with its craft. Encounter the dram through an interactive kinetic art installation inspired by The Macallan Six Pillars, a sensory cinema of the Sherry Oak and Double Cask expressions, kick back at the dedicated lounge or make a booking for the exclusive private dining sessions curated by Executive Chef of Raffles Hotel Singapore Pierre Burgade together with his team of Chefs de Cuisine.
The Macallan Experience happens until 9 May at Raffles Arcade #01-04, Singapore 188719.
STAR WARS™ Identities
Hey nerds, Find close to 200 original items from the extensive Lucas Museum of Narrative Art archive in the final stop of this exhibition's global tour. Embark on a customised, interactive identity quest on the franchise's characters from the actual Stormtrooper costumes to model of the Imperial fleet: Star Destroyer—all authentic props, and artworks that spans the entire universe.
STAR WARS™ Identities happens until 13 June at ArtScience Museum.
Once Upon A Time on The Orient Express
Catch Paris' renowned luxury Orient Express, another first in Asia and a result of six years of planning. The travelling exhibition of objets d'art, archival documents, movie extracts and more that reference different stops on the train's past itineraries also avails gourmet car dining and a familiar escape room. Read more about the full experience here. Tickets can be purchased through the Orient Express online booking platform and Sistic.
Once Upon A Time on The Orient Express happens until 13 June at Gardens by the Bay's West Lawn.
JalanJalan.Me
Spearheaded by the folks behind #savefnbsg, the curated list of under-the-radar spots is an itinerary to rediscover the neighbourhoods we're familiar with. From a microbrewery under a Clementi HDB to a kueh store with over 30 years of heritage in Bedok, find evergreen establishments and new hotspots, and even contribute to the list by sharing your favourite haunts to spread love to small local businesses and a chance to win attractive prizes.
Check out JalanJalan.Me.