When it comes to American fashion, Tommy Hilfiger is a name that comes up often. The 35-year-old brand known for its Americana prep and hallmarked by its instantly recognisable navy-white-and-red flag, is entrenched in pop culture since the '90s.
At the height of MTV's popularity, Tommy Hilfiger was a common fixture in music videos and live performances by artists spanning a range of musical genres. It wasn't uncommon to see a Tommy Hilfiger flag logo on stars such as Destiny's Child, TLC, Britney Spears, Snoop Dogg and Gwen Stefani—all diverse in more ways than one.
That sense of inclusivity (anyone who wants to wear Tommy Hilfiger can wear Tommy Hilfiger) is evident even till now. The brand has had steady streams of design partnerships with the likes of Gigi Hadid, Zendaya and Lewis Hamilton. Its presence continues in the music world as evident on contemporary artists such as Rihanna and Bruno Mars. Tommy Hilfiger's design vocabulary has seen such malleability over the decades that they're open to any style interpretation.
But of course, no brand thrives on celebrity endorsements alone. This inherent belief in inclusivity has expanded into more niche areas. In 2016, Tommy Hilfiger partnered up with nonprofit organisation Runway of Dreams to launch Tommy Adaptive, a line of clothing designed to make wearing clothes easier for people with disabilities. Tommy Adaptive took feedback from the community as a way to constantly improve on designs and offerings, as well as cater to the spectrum of needs that could sometimes be specific for certain disabilities.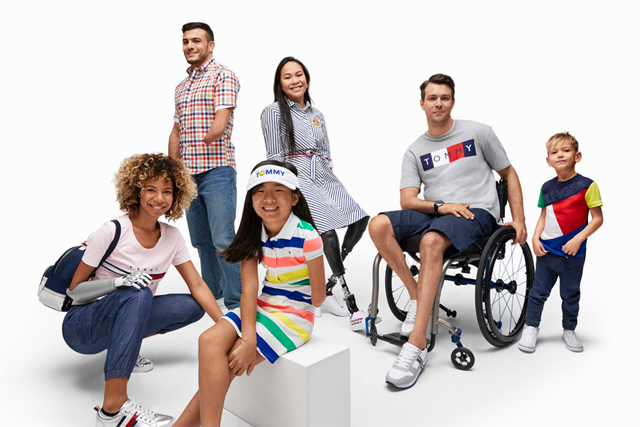 The brand's inclusive spirit has organically extended into caring for the environment; what's more inclusive than being part of ensuring that the planet is treated responsibly for the betterment of all? Powered by parent company PVH Corp's Forward Fashion strategy, Tommy Hilfiger has announced its own Make It Possible program. This marks the brand's most ambitious endeavour to date. The program spans across 24 targets centred around circularity and inclusivity, with four pillars of focus: 'Circle Round', for products to be circular and part of a more sustainable loop; 'Made for Life', that keeps environmental impact as an operational factor; 'Everyone Welcome', a true-to-its-name approach to establish Tommy Hilfiger as a brand that works for every fan; and 'Opportunity for All', that's a more internal aim where anyone can succeed as part of the Tommy Hilfiger family.
To tell us more about Make It Possible and his own believes in inclusivity as well as sustainability, we speak to the man himself, Tommy Hilfiger.
ESQ: Part of the mission of Make It Possible is to 'make products to be fully circular'. How is the brand planning to achieve this goal? And will circularity be something that customers can do themselves (through things like composting used Tommy Hilfiger clothes) or will it be something that the brand will assist customers in doing (perhaps through collection of used Tommy Hilfiger clothes to be recycled)?
TOMMY HILFIGER: In line with our vision to shift to a more circular fashion ecosystem, we are exploring new circular business models. Our products are made to live as long as possible, but in the near future, we are determined to offer consumers opportunities to access our products in ways other than buying them new.
Our circularity goals go beyond the brand, aiming to impact the entire industry. To achieve widespread and long-term change, we feel that collaboration and partnership across the value chain are key. We're also listening to and engaging our consumers, especially to see how their needs and priorities have evolved in this new world. We're already making progress by implementing reuse and upcycling programs that enable consumers to access our products in new ways. We have also trained more than 80 percent of our designers on circular design. And we're integrating new software that will revolutionise how we make our products more circular. We are on our way, but we still have a long way to go.
ESQ: Tommy Hilfiger is already one of the leaders when it comes to sustainability and transparency of how and where products are made. Was this always a conscious decision or has input from customers influenced this move to be more sustainable?
TOMMY HILFIGER: Our consumers will always be at the heart of everything we do. They are looking to us to lead the way in sustainability. From how we market and model our clothing and how we create and produce the collections they see, to how and where they can purchase our products. They count on us to deliver the styles they love without compromising quality. As we continue making sustainability strides with Make it Possible, consumers will still see the Tommy Hilfiger that they know, but with more diverse representation in our campaigns, more options for them to shop, and more sustainable styles that reflect their priorities.
ESQ: There has always been a debate on how fashion as a business, can never truly be sustainable due to the nature of the business. What do you say to that?
TOMMY HILFIGER: We believe that with hard work, partnerships and a positive outlook, anything is possible. We recognise that one brand can't do this alone, so we're working with our diverse community of associates, industry partners and other organisations around the world to make our vision a reality.
ESQ: Waste is one of the biggest culprits when it comes to fashion and sustainability. With Make It Possible, how will the brand seek to balance offering variety while ensuring that unsold products are kept low?
TOMMY HILFIGER: We believe that nothing should be wasted. Our industry needs to do better—and we want to be part of the solution. So we're working on innovations. That means our materials will be from recycled or regenerative sources, our products will be designed for circularity, and we will offer ways to give product that is no longer used a new life and recycle the materials they were made from. We will also give consumers an opportunity to wear our clothing through other means than buying them new.
ESQ: What does 'inclusivity' mean to you personally?
TOMMY HILFIGER: My dream was always to build a brand with an inclusive spirit and democratic philosophy—fashion that everyone can wear. This accessibility has been at the heart of the brand since day one. I want everyone to feel that we design with them in mind. We do this by reflecting the diversity of our fanbase in the collections we design, the models on our catwalk, the talent we feature in our campaigns, and the programs we run internally. As a brand, we will always find new ways to champion inclusivity in everything we do.
ESQ: The Tommy Hilfiger brand has been around for 35 years now. What still brings you joy after all these years?
TOMMY HILFIGER: Even 35 years on, I still feel like the same teenager doing whatever it takes to chase a dream. Every day, I'm excited by the potential of what the brand can achieve, what we can mean to our fans and the impact we can make on the world. Knowing that the brand is still dreaming big and working hard to make our dreams a reality brings me just as much joy after all these years.