If you've ever wanted to feel what it's like to be in a time machine, congratulations; you already did. With all that happened in 2020, precedented or not, no other year felt this long. And yet, here we are at the end of it looking back at some of its most ridiculous moments, as well as their funniest reactions from the Internet. Plus, because it's been such a crazy year, we round up our favourite memes chronologically, so you get a sense of how warped time was this year.
1. Elon Musk and Grimes' son, X Æ A-12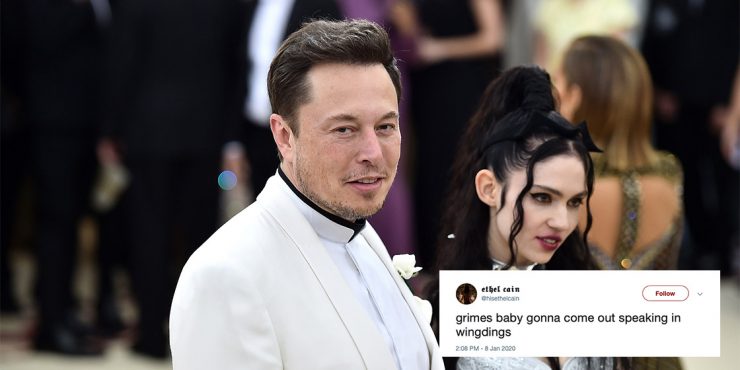 It was a hell of a ride from the shock at Grimes' pregnancy announcement, speculating potential names of the couple's baby to the child's actual name months later that certainly did not let us down. Still don't quite know how to pronounce it, tbh.
Omg I figured out how to pronounce X Æ A-12 pic.twitter.com/ppfE0x8Nfh

— Ben Yahr (@benyahr) May 5, 2020
See how we came pretty close to guessing the name and all the reactions to X Æ A-12.
2. The Brad-Jenn reunion
The Screen Actor Guild Awards this year was overshadowed by its unintentional main event—a very photo-worthy moment between the ex celebrity couple that had us believing that some feelings just don't die.
"You still got the same number?" pic.twitter.com/kNlFUcDCmT

— Big Bank Bresha. (@CatwalkDarling) January 20, 2020
3. COVID-19
Ah, the simpler days where we were all just beginning to adapt to the concept of a global pandemic, #WFH, and trying our naive best to flatten the curve.
My recommendation for a handshake alternative in these trying times. pic.twitter.com/VeyuBTdsGM

— Ruli Harahap (@ruliharahap) March 3, 2020
See how we were dealing with COVID-19 and things like social distancing.
4. Tiger King
We're still struggling to accept that this happened this year because it felt like a decade ago, but we're glad it did. If anything, this was truly a gem Netflix bestowed us to weather the quarantine.
#TigerKing was so insane that by the time this guy pulled up with a skeleton riding shotgun I didn't even blink and the show didn't feel the need to explain it pic.twitter.com/tTzJloh74e

— Ramsey Daniels (@ram_punzel) March 24, 2020
5. My Plans vs 2020
At this point of the century-long year, we realised things were pretty much going downhill and made peace with it. Our only consolation then was the news that we were going into Phase 2 locally.
Our plans: 2020: pic.twitter.com/PNYLqeDIbf

— Lost Kings (@wearelostkings) May 19, 2020
6. #Kanye2020
To top off the madness, Kanye decided to drop his surprise Presidential bid. Together with Trump's meme-worthy tan line to Bernie Sander's meme-worthy tagline—not forgetting our own surprise Singapore General Elections—it was clearly an eventful year for politics.
it's their world and we're just living in it#KanyeWest #Kanye2020 pic.twitter.com/Qbo5QlwQaI

— abh;shek (@abhishekitoff) July 5, 2020
7. Cake, all is cake
2020 also marked the year that we realised we, as a human race, were collectively obsessed with cake. That, or everything we knew to be real is actually just made of dessert.
I sob in despair as I eat my cake wife. She is delicious.

— MehGyver (@TheAndrewNadeau) July 9, 2020
8. Indian Matchmaking
Okay, so Netflix gave us one more gem in the form of Sima Taparia from Mumbai, and the supporting cast of the arranged marriage reality TV show. Negative cultural stereotypes, sexism, and colorism have never been this entertaining.
The next person Sima needs to introduce Aparna to is a therapist #IndianMatchmaking pic.twitter.com/L2tL2m8PRm

— Magali (@magsssssss_) July 20, 2020
9. Among Us
Boredom got the best of us as online multiplayer game Among Us catapulted to fame. How can we blame it? When else do we get to fake doing work, lie to our friends, and just generally be suspicious of everyone?
Daily dose of humour??.. #Amongus pic.twitter.com/UImSXvO14G

— PhreshNews (@Phresh_N) October 3, 2020
10. They don't know
As the year-end 'parties' be upon us, you may not physically be standing in a corner judging and feeling left out, but mentally, emotionally, we're all there.
so real pic.twitter.com/nczjeWQeXB

— ً (@virafied) November 30, 2020
Related stories:
20 funniest tweets of 2020 because god knows we need it
Top 10 memes of 2019
Top 10 memes of 2018