Skincare is, ultimately, a unisex matter. One can say women have full-fledged skincare regiments because they are applying extra things that need the extra cleansing, but you can't say a flawless complexion is solely of interest to women. If anything, the market for men's skincare has grown in recent years, extending even into the world of beauty (case in point: Boy de CHANEL and Grail).
While the conversation has moved far beyond whether men need skincare or not, toners and moisturisers still probably won't be the first to mind when looking for general use-for-all gifts. We'd like to change that. In a time of conscious unlearning of the binary attribution of gender, simple daily acts like washing one's face with product is a pretty minor but steady approach to internalising gender neutrality. If you'd rather we cut out all this deep talk, then the argument is simply skin is skin and everyone has a face.
Plus, who wouldn't want to feel pampered? Look good, feel good. Don't even get us started on maskne. If you're in on this all-loving skincare movement, we've collated products that have mastered the taming and nourishing of skin, in one way or another. From sunscreens to skin-slurping serums, these bad boys (and girls, #GenderEquality) can be used by anyone at home.
Aesop's Parsley Seed Anti-Oxidant Intense Serum
It's not a loss to gift Aesop's iconic amber glass vials to friends and family who aren't in on the brand's cult-like status in beauty land. They will learn in time. Consider starting them off with this viscous liquid—a protective, intensely hydrating serum that also does double-duty as a moisturiser. This fuss-free addition's light finish upon application makes it a complement to both a lack thereof routine and a multi-step, multi-brand and custom one, it is also designed to shield one's complexion from airborne pollutants that regularly causes skin dullness and damage. A carefully considered gift if we don't say so ourselves.
Aesop's Parsley Seed Anti-Oxidant Intense Serum (SGD110) is available at Aesop and Beaubit.
Malin+Goetz's Saving Face Set
What started off as a New York-based, neighbourhood apothecary for people to speak to chemists, ask for skin care advice, and discover products for specific concerns and conditions led to the start of this gender neutral brand's rise to popularity. Continuing its motto of keeping things as easy as one and two (no three), this limited holiday edition Saving Face Set, which includes bestsellers like the grapefruit face cleanser, vitamin e face moisturiser, and an additional detox face mask to cleanse and hydrate in both tropical climates and the harsher winter ones. Keep this in mind especially for those who are taking VTL-enabled holidays overseas.
Malin+Goetz's Saving Face Set (SGD130) is available on Malin+Goetz.
Rationale Beauty's The Essential Six
Something more indulgent is luxury beauty brand Rationale Beauty's The Essential Six (maybe save this for yourself or those dearer to heart). This set of three serums, a cleanser, a day cream and a night cream proves that the honey is where the money is. These carefully engineered skin potions come with written promises of how their use will transform your skin, which does happen in time. Each product is representative of Resilience, Vitality, Brilliance, Integrity, Clarity and Renewal; the six collections developed in the lab with dermatologists that guarantee a luminous glow. If you or someone you know has issues with pigmentation, acne, irritation, or signs of aging, here's a worthwhile investment.
Rationale Beauty's The Essential Six retails (SGD970) is available at Rationale Beauty.
CeraVe's Hydrating Mineral Sunscreen SPF50 Face Lotion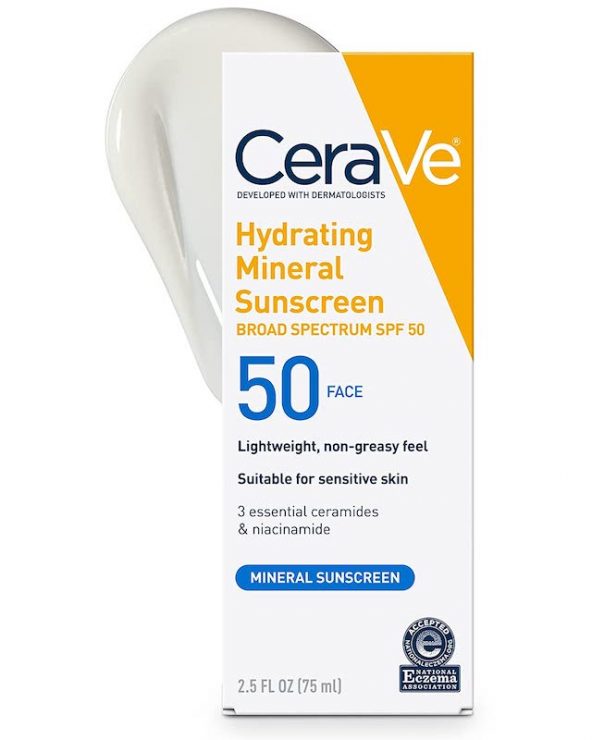 For sensitive skin, CeraVe's Hydrating Mineral Sunscreen SPF50 Face Lotion is a good candidate for a safe, well-meant and TLC-quality gift. This broad-spectrum SPF50 sunscreen for use on the face is lightweight, oil-free and non-greasy with an easy finish (good for makeup users). The best part about this product is its inclusion of ceramides and niacinamide; vitamins that help your skin stay smooth and silky. It's also water-resistant for up to 80 minutes—perfect for those who like to sweat it out too.
CeraVe's Hydrating Mineral Sunscreen SPF50 Face Lotion (SGD24) is available at Amazon and Hush. 
Dermalogica's Active Clay Cleanser
The last in this list is a classic from an OG face-caring brand. Dermalogica's Active Clay Cleanser has been sworn by beauty gurus when it comes to aiding oil control because it does an intensive cleansing without leaving the skin feeling stripped bare and dry. It may look like any regular clay mask at first sight, but its hint of lemon and creamy texture will assure you that it's not. This is great for evening out skin tone and texture, and will definitely be raved about upon use by your unsuspecting gift receivers.
Dermalogica's Active Clay Cleanser (SGD68) is available at Dermalogica, Sephora and Amazon.