The default beauty ideal for a luxury watch goes something like this: a round case made of precious metal, a shiny polished dial, gilt hands and hour markers, and classical finishes. Aptly describing a staggering majority of the 30 million watches that Switzerland makes every year, this quintessential look has its appeal of course. Whether dressy or sporty, simple or complicated, this fail-safe design aesthetic is the bedrock of Swiss haute horlogerie—has been and always will be.
But for every 100 classical conservative watches out there, you get one that is beyond the imagination of anyone other than its creator. Sometimes it looks nothing like a watch as it stubbornly refuses to adhere to convention. We're talking about the oddballs and the misfits, the ones that were born out of sheer curiosity and rebelliousness. The ones that, by their very existence, have created a whole new language in watch design, starting new trends and giving new meaning to luxury watch ownership.
Richard Mille
From the outset, Richard Mille has made it eminently clear that this is a brand like no other. Its tonneau-shaped case, state-of-the-art materials, F1 manufacturing technology, stylised dials and its groundbreaking complications all come together in one futuristic package. There's nothing Richard Mille will not do to bring greater performance into luxury watchmaking, and this has resulted in some of the most jarring works of contemporary haute horlogerie anyone has ever seen.
Anyone who's seen the RM59-01 Yohan Blake will always remember his or her first encounter with the watch. Indeed, if the Rolex Submariner Ref 116610LV is nicknamed the Hulk, then the RM59-01 Yohan Blake should be nicknamed the Swamp Thing. Its case is made from a translucent composite composed of injected carbon nanotube—so many words but what does it mean? Essentially it is a lime green partially see-through case with flecks of green particles embedded within bits of algae on slime.
Not only that, it has a misshapen case that's thicker on one side and thinner on the other. It also tapers out from the left to the right sides. According to Richard Mille, this produces better aerodynamics so that Yohan Blake would not hesitate to wear it on the track. And those four creepy bars that resemble a frog's webbed feet? Believe it or not, they're a homage to the sprinter's hands.
Everything about the RM59-01 Yohan Blake is very high-tech though. The bars, for instance, are made of a material called anticorodal Pb109 aluminium which provides great flexibility and better shock resistance, which is funny because we're the ones in a state of shock.
Hamilton
Other than round, watches come in so many shapes these days: square, rectangle, tonneau, oval, cushion, octagonal… The Hamilton Ventura, however, is the only watch with a triangle case, which is possibly the strangest shape to use for a timepiece.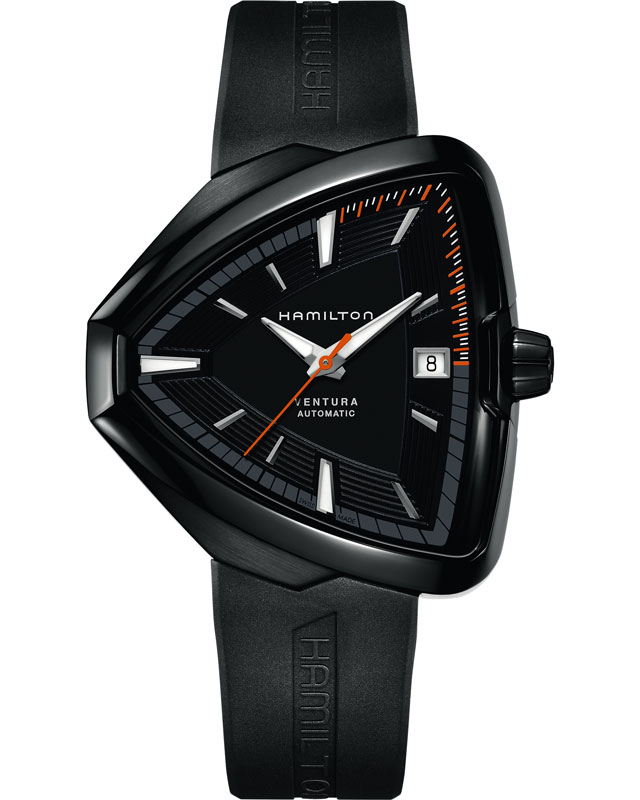 Created in 1957, the Ventura was Hamilton's first battery-powered watch. Running on the Calibre 500, it was touted to be the 'watch of the future' and the first of its kind to be made on a mass production scale. Hamilton hired the American industrial designer Richard Arbib to come up with a futuristic case design for its movement. Arbib was known for his penchant for asymmetrical designs and the Ventura certainly embodied that.
While the Ventura brought Hamilton to the front of the electric watch pack, it was another decidedly different reason that the watch gained worldwide fame. Elvis Presley was a fan of the watch and wore it on the set of the 1961 movie Blue Hawaii. Rod Serling, writer of The Twilight Zone, was also seen wearing a Ventura on screen.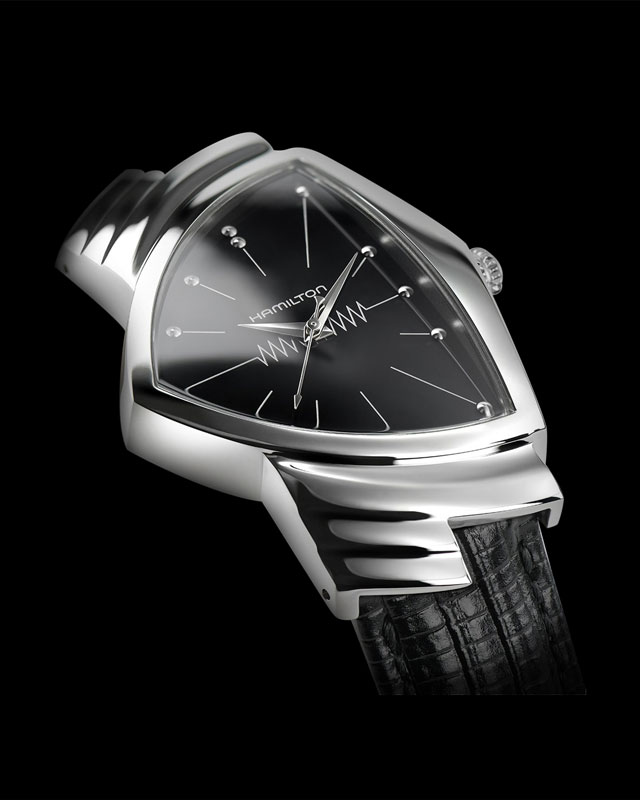 Much later in the 1990s, Will Smith wore a contemporary Ventura in Men In Black. In 2010 the Ventura was also seen on Mad Men as Ken Cosgrove (played by Aaron Staton) shows the watch off to a roomful of self-important ad men.
There have been a number of different styles of the Ventura, mostly in quartz since this watch started out as an electric model.
They all have a triangular case and fancy oversized lugs, as well as a line zigzagging from nine to three symbolising the battery-powered nature of the movement. Its case shape may take some getting used to, but the Hamilton Ventura is practically an icon not just of Hamilton but also of the 1960s.
Ulysse Nardin
When there's a watch named the Freak, everyone's going to want to see what it looks like. As promised, the Ulysse Nardin Freak is one helluva watch. Introduced in 2000, this watch confounded even trained horology experts and sparked new interest from collectors who were beginning to feel a little jaded.
It may be round like 90 percent of all watches on the market, but it had no hands, no dial and no crown. There was just this 'thing' in the middle that looked like a spaceship hovering in space. How it's meant to be read and operated was a complete mystery. Yet it does a perfectly good job of telling the time.
The mechanism floating within the case is the gear train where the balance and escapement were at the base, connected to a series of gearing wheels that connect it to the outer perimeter hidden underneath the bezel. Functioning as the minute indicator, it works with the discreet arrowhead which tells the hours. The Freak is a manually wound watch but in lieu of a crown, its mainspring is wound via the bezel, so you basically turn it round and round like a knob.
Like the Richard Mille and the Hamilton, this timepiece was not a conventional beauty but, rather, a perplexing oddity. Yet they all managed to attain the kind of cult status that no classic elegant equivalent could ever dream of. So call them freaks and monsters if you like, but these watches are why modern watchmaking never gets boring.