So Christmas is coming and you're thinking about watches. Well you're in luck because there's a huge bumper crop of seasonal launches waiting in stores.
We've taken the liberty of curating seven of the best timepieces which are also (more or less) very affordable.
Some of them are great everyday watches, some of them are funky statement watches, but we promise all of them will be wonderful additions to your ever-growing collection.
Longines Heritage Military 1938
A 43mm stainless steel watch with a hand wound calibre. Limited and numbered to 1,938 pieces only. The design is typical of the 1930s and it carries a bevelled bezel along with a "sea urchin-shaped" crown for easy adjustment.
Domed sapphire crystal modernises the look a little. Matte black dial with cream coloured numerals and baton style hands provide top notch legibility. Lastly, you'll see a railway-track around the small seconds sub-dial, which is another throwback to the Interwar period.
Strap options are more than satisfactory, as it comes with two different ones. Patinated charcoal grey leather and cognac-coloured NATO leather. You'll also get a tool that lets you easily swap between the two straps. ($3,660)
Longines Heritage Classic
A modest 38.5mm case with no date window.
Available in blue or semi-matte black leather.
Another 1930s reissue—you can tell from the sector dial—this piece offers a unique aesthetic for everyday wear. It appears simple but offers lots of details. Check out the hour circle which is satin-finished while silvered opaline provides contrast on the otherwise monochromatic dial. To complement the look, Longines went with blued steel hands. But perhaps the best decision it made in this watch was to not have a date window.
The other amazing thing here is the exclusive calibre L893.5 featuring a silicon balance spring. As you might know, not many watches are using this patented material in its movements. And those that do could be prohibitively expensive. So this Longines Heritage model is one of the most accessible watches featuring silicon.
An excellent case diameter of 38.5mm reflects the elegance of 1930s watches. To top things off, this watch comes with two straps: Denim-effect leather NATO, and semi-matte leather with beige overstitching. ($3,180)
Rado True Thinline Couleurs Le Corbusier
Spectacular ultramarine.
Sunshine yellow.
Luminous pink.
Powerful orange.
Slightly greyed English green.
Pale Sienna.
Cream white.
Grey brown natural umber.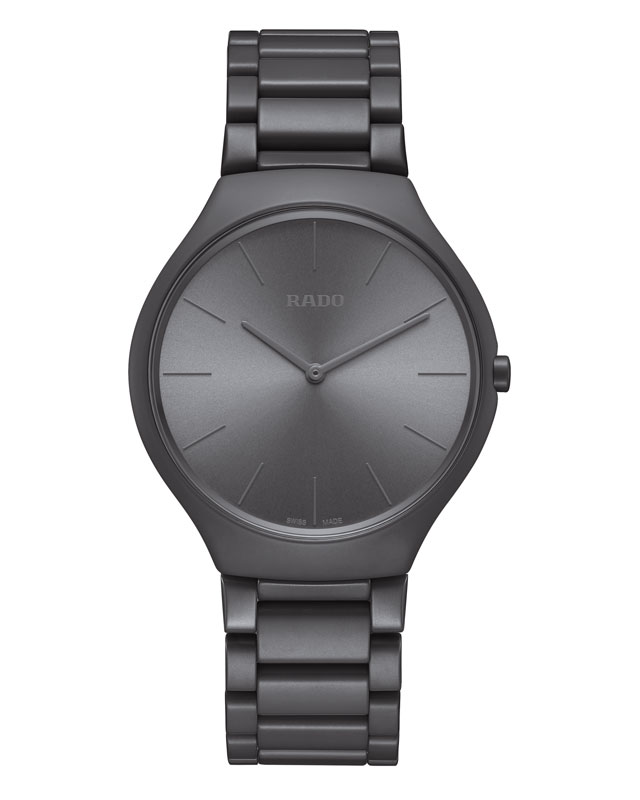 Iron grey.
Celebrating the style of Le Corbusier, this collection highlights Rado's status as a master of materials. Indeed, there aren't many watch companies as skilled with high-tech ceramic. So here, Rado coloured nine True Thinline watches in the palette of the Swiss designer's Architectural Polychromy.
These are deemed to be both most appealing and the most challenging to create consistently. Cream white, iron grey, spectacular ultramarine, sunshine yellow, and luminous pink. Powerful orange, slightly greyed English green, pale sienna, and grew brown natural umber.
Ultra-slim and modestly sized at 39mm, these watches balance subtlety with vibrancy. They are also very durable, scratch-resistant, light and easy to wear. Each colour is limited to just 999 pieces. Knowing how difficult it is to achieve very exact colour hues in ceramic, let us tip our hats off to Rado for this fabulous collection. ($2,180)
Tissot Heritage Porto
Mechanical model in pink gold PVD.
Quartz model in pink gold PVD.
Mechanical model in steel.
Quartz model in steel with a black dial.
Next time someone calls you old-fashioned, just show them this watch and see them go from smug to envy. This remake of an early 1910s Tissot watch is equal parts class and curves.
Inspiration is very much drawn from the Art Nouveau era as you can see the ornamental-style fonts and elaborate hands, sub-dial… Notice as well the loop lugs which are not at all common among tonneau-shaped watches these days.
So if you like vinyl records, Polaroid snaps and all things retro, this is the watch for your wrist. Take your pick from five references in steel or pink gold-PVD, quartz or mechanical movement. (From $810 for quartz to $1,700 for mechanical)
Casio G-Shock GMW-B5000TCM-1
Love camo prints? This Casio G-Shock has got you covered. Literally. Even better, it's done in multi-scale camo and the entire watch is crafted out of—get this—titanium. So you'll find it extremely lightweight. Casio will have you know it's a full 57 grams lighter than the all-steel model.
The camo pattern is laser engraved by machines of course but each link on the bracelet has to be set by hand, so this watch is a work of art in a rather different sense. Finally, the watch is finished with a DLC coating that further protects its surfaces from damage and scratches.
It's got everything. Equipped with standard G-Shock technology including Bluetooth connectivity to the G-Shock app, Two-Way Time Sync, Multi-Band 6 self-adjusting atomic timekeeping. But we know you don't really care. You're already infatuated with the black titanium digital camo. ($2,299)
Luminox F-117 Nighthawk 6440
This model combines Luminox Light Technology with classic Superluminova.
Super stealth but always visible.
This watch is a remake of a specific model made 20 years ago for the F-117 Nighthawk Stealth Jet Pilots from Edwards Air Force Base. Those stencilled numerals and the notched bezel may look crazy cool but what's really going to knock your socks off is the ultra-black, ultra-light Carbonox+ case material.
A carbon-based polymer exclusive to Luminox, Carbonox+ is light, hypoallergenic, extremely durable and resistant. We also love the unique striations on the material which are a result of the manufacturing processes.
Because it's a Luminox, you can definitely expect tip-top illumination and perfect visibility under all conditions. But this special piece combines the brand's signature Luminox Lighting Technology on the numerals and hands with SuperLuminova on the bezel and dial to give you the best of both worlds. ($1,255)
Bell & Ross BR03-92 Full Lum
Classic by day.
Light explosion by night.
Optimum readability is also the mandate of this Bell & Ross number, although this time it's used for a decidedly different reason. This iconic square watch is an explosion of light. That's why it's called Full Lum.
All parts of the watch that typically glow remain dark, while the parts that aren't usually shining, emit an almost radioactive glow. This is the perfect reminder of Bell & Ross' design ingenuity.
The dial is coated with SuperLuminova C3 luminescent pigments—this is the most resistant, intense, and innovative variant—while the strap is made of luminescent green rubber. Even in complete darkness, you couldn't miss this watch if you tried. 250 pieces only available at Bell & Ross boutiques and the online store. ($5,700)