Welcome to the weekly run-down of Westworld season three. Just as we've done with the last season of Game of Thrones, each week we'll post an analysis of each episode of Westworld until the season ends. This is the finale.
As usual, there will be spoilers, so proceed at your own risk.
---
Episode 8: "Crisis Theory"
aka Dolores' (played by Evan Rachel Wood) plan is finally revealed; Serac (Vincent Cassel) might not be in total control and William (Ed Harris) meets his end.
This last episode is the culmination of Dolores' plans that were set in motion since last season's finale. All her machinations, all her schemings; everything leads up to this finale.
Except, it's kinda weak.
The acting is great, the world-building is fantastic. There were questions answered, loose ends tied up; clearly, a lot of thought is put into this season but the payoff isn't great.
Dolores is a strategist, that much is a given. Last we saw her, she and Maeve (Thandie Newton) were knocked out by the EMP blast. Dolores would have been toast if Caleb had not removed her control unit. Further instructions led Caleb to bring the control unit to another Dolores host body, just waiting in storage.
May I point out how pivotal, this moment is, when Dolores stands before Caleb, the inner workings of her robotics exposed, is literally, her with nothing to hide. Bonus creepy points when Dolores slips on her skin like a glove. Now that Dolores is back and operational, the next step of the plan is to bring Solomon's final plan to the Incite office.
We return to William who has Bernard and Ashley (Luke Hemsworth) in his sights. This is the first of two stupid cartoon cliches we'll witness in this episode: William just yapping away instead of blowing them away when their guard was down. God, William… you might as well grow a moustache and twirl it.
Bernard and Ashley would, of course, fend him off. In fact, they would be saved by the arrival of…  Host Lawrence (Clifton Collins Jr), who has the final copy of Dolores' consciousness. The appearance of Host Lawrence is… surprising. This is whom Dolores selected? I'd put money on Teddy (James Marsden) or even the old Peter Abernathy (Louis Herthum) but Lawrence? His appearance feels like fan service (although who are the fans of Lawrence?).
The riots are in full swing in LA (thanks to the Rehoboam's files leaked to the world). Utilising the Rico app to strategise the riots, Dolores and Caleb make their way to Incite… until they are waylaid by the appearance of Host Charlotte, who has a bone to pick with Dolores. She, too, has roped in some mercs to take them out until Dolores uses the power of capitalism and offers to pay the mercs more than what they are getting; it's super effective.
Now Maeve turns up and, once more, she and Dolores fight. Now I have issues with this. While the choreography is fine, do we really need to see another showdown between the two of them? Why are you still carrying a goddamn sword, Maeve? And where's your back up—Hanaryo (Tao Okamoto) and Clementine (Angela Sarafyan)? Is their only task to take out Host Musashi (Hiroyuki Sanada) in the last episode? If so, that's not very economical, is it? For a machine, Maeve is turning out to be a crap project manager.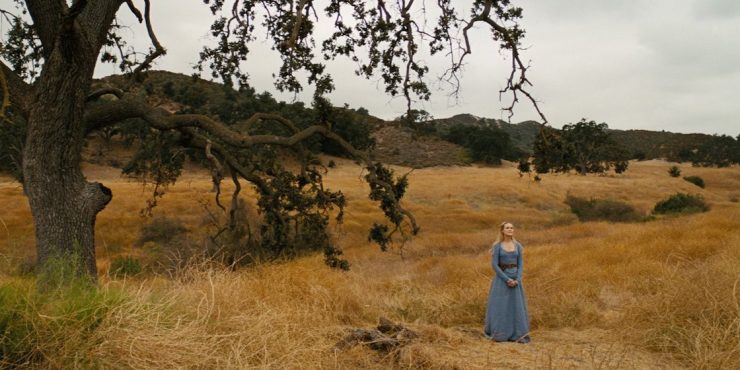 Anyway. Where were we? Oh, yes.
Dolores is captured and shipped to Incite, while Caleb reaches there anyway and just before he could upload Solomon's final plan into Rehoboam's system, he's captured by Serac's men and taken to see Dolores, who is hooked up to Rehoboam.
Apparently, Rehoboam and not Serac is in charge of the entire operation. Serac is just a puppet, echoing whatever the system tells him to say. Serac wants the key from Dolores so that he could access Delos' 'Immortality Project', which includes access into the Valley Beyond aka robot heaven. Dolores plays hardball so Serac erases her memory bit by bit. This is akin to dying, having your information wiped out. Dolores lets Maeve into her mind and convinces her to turn against Serac.
Welcome to the second of the two stupid cartoon cliches of the episode: Serac is reduced to a barking villain, telling Maeve to do this and that. It's almost comical. God, Serac… you might as well tie Dolores to the train tracks to complete the image.
All along it was hinted that there's more to Caleb than meets the eye and we find out that they actually met before the start of this season. Remember Delos had six parks and we know five of them—Westworld; Shogunworld; Warworld; The Raj; Medievalworld. That leaves Park 5 and while we don't know the exact name of the park, we do know that the place is used as a military training base for soldiers to practice on "live targets" like the hosts. Caleb was one of the few soldiers, who were training and was the one who stopped the rest of his platoon mates from sexually assaulting the surviving hosts. Delores, who was one of the survivors, notice his actions and earmarked him for her plan.
Which brings me to this: how terrible are people who participate in Delos park activities? How scummy are they that when someone like Caleb who did the bare minimum of NOT TO RAPE is seen as a saint? Is there not one human in all of Dolores' encounters at Delos that is decent?
Whatever circumstances—the brainwashing; being used as a pawn; being an outlier; not a rapist—they don't seem unique enough to convince me that Caleb is meant to be the chosen one.
As Serac is erasing Dolores' memory banks in search for the key but she doesn't have the key. Psych! The key is actually with Bernard along. Lawrence passes him instructions to meet with Arnold's widow, Lauren (Gina Torres) She has some sort of Alzheimer's and doesn't recognise Bernard, who is modelled after her husband. They reminisce about their dead son, Charlie. Bernard, who possess Arnold's memories, tells her that he can't let him go but she tells him that it's fine because "if you love someone, why would you let them go?"
It's a moving scene, one that gives Bernard closure about his deal with Charlie. But this scene feels hastily tacked on. Throughout the season, there was no inkling about Bernard's guilt of still holding on to the memories of his child so it seemed weird that Bernard's path led him to meet with Lauren. Odd.
Bernard and Ashely (ohmigod, was Ashley just bleeding while Bernard went off on a detour to meet Lauren?!) go to the motel to rest up. Ashley is placed in a bathtub filled with ice as Bernard doesn't have the time to fix him up. Instead, he wants to access the Valley Beyond. He puts on a doohickey, logs off as he head slumps to his chest. A worried-looking Ashley, stuck in the bathtub, could only watch him.
Meanwhile, it looks like Dolores is at the end of her adventure as she's down to her last few memories but double-psych! Hooking Dolores to Rehoboam allows her access into the system (such a rookie mistake, Serac) and she hacks into it. Overwriting Rehoboam's programme, she gives Caleb full access. Maeve steps in to aid Caleb and takes down Serac's men and Caleb tells Rehoboam to erase itself.
With Incite destroyed and Dolores completely erased, Caleb and Maeve exit to witness the city collapsing on itself as the riot reaches a fevered-pitch. As the world dies so as a new one would take its place, Maeve repeats to Caleb what she said back in episode two in the first season: "This is the new world, and in this world, you can be whoever the fuck you want."
We're not done yet. Stick around after the credits and you see William at a Delos building in Dubai. Convinced that he's the hero of the story, William shoots his way into the research lab to stop the hosts from "breeding". He finds Host Charlotte there and she introduces him to… the host-version of William, who is dressed in his signature black cowboy ensemble. The Man in Black swiftly cuts the throat of William. The camera pans to the back and we see a lot of hosts being made. William wasn't right about his role as a hero but he was right about the hosts multiplying.
Oh, and we see Bernard returning from his sojourn in the Valley Beyond. But he's covered in dust, an indication that a lot of time has passed. What happened since? Why is it important for Bernard to visit the Valley Beyond? What the hell happened to Ashley? Guess, we'll find out in season four.
Other takeaways:
It's gonna be tough thinking of Westworld without Evan Rachel Wood's involvement. Sure, technically, Host Charlotte and Host Lawrence are copies of Dolores' memories but it won't be the same.
There were discussions on whether Dolores is saving humanity or destroying it but that was never an issue for me. It'll make sense for her character arc to move from being angry Wyatt to being a liberator for those in bondage.
Also, Dolores return to the Wyeth-inspired empty field is fitting as a symbol of her return to innocence.
Doesn't Dolore's plan seem kinda… long-winded? I'm reviewing the entirety of the season and I see parts of her plan that could be cut out or shortened. Dolores could have replaced Liam Dempsey Jr (John Gallagher Jr.) and Martin Connells (Tommy Flanagan) from the start. That would have saved so much trouble.
Ugh, Bernard's journey was frustrating because nothing he does feels important. He has the key to the Valley Beyond but he was allowed to run about and thwart Dolores' plans? I mean, what the hell?
I feel that the season could use, at least, two more episodes, to properly establish certain characters (Bernard) and set up what Incite really is. Maybe, it'll get better in season four? Maybe.
Thanks for reading. This is the final Westworld analysis. Westworld is shown every Monday at 9am SGT / Sundays at 10pm PST on HBO and HBO GO.
---
Episode 7: "Passed Pawn"
aka the penultimate episode where Caleb's (played by Aaron Paul) real history unveiled; Bernard (Jeffrey Wright) needs to man up and a long-awaited showdown.
We finally see the rest of Maeve's (Thandie Newton) team: Clementine (Angela Sarafyan) and Hanaryo (Tao Okamoto). They wasted no time and swiftly dispatched Host Musashi (Hiroyuki Sanada) thanks to a tip-off from Host Charlotte, who is looking good for a burn victim.
I wonder if Maeve took a page from Dolores' (Evan Rachel Wood) playbook and copy-and-pasted her consciousness in Clementine and Hanaryo's bodies? That would be a shrewd move but it wouldn't be in her character to do so. And I've so many questions about the Clementine and Hanaryo's plan because it doesn't seem like they thought it through: if they can create a host body from scratch, wouldn't it make sense not to leave an identifiable tattoo on Hanaryo's face? You've separated Host Musashi's upper torso from the rest of the body but instead of cutting off his head, you chose to carry the whole of his top part with you? And why do you need to carry Host Musashi's torso with you; do you need proof that he's dead-dead? But he's not dead-dead because his pearl is still intact, so is there more to this that we're not seeing?
It would appear that the site in Sonora, Mexico, that Dolores and Caleb are heading to isn't Inner Journeys, San Francisco, where William (Ed Harris), Bernard and Ashley (Luke Hemsworth) are at. In our last post, we were confused as to why Host Charlotte needed to know William's location when Host Connells (Tommy Flanagan) is already in possession of said information (he's the one who sent Bernard and Ashley to Inner Journeys). But that's an assumption on our end. The synthetic marker in William wasn't to indicate where he was but rather it was to infiltrate Serac's system to reveal the secret lab, which is in Sonora, Mexico.
But what's in the lab? It's the Solomon AI. For some reason, the predecessor to Rehoboam hasn't been commissioned. But while it is still functional, it is still a prisoner as exemplified by the military-grade EMP (electromagnetic pulse) that's set up near it.
A flashback into Caleb's past reveals his deployment into the Second Russian Civil War. You see Caleb and his buddy, Francis (Kid Cudi) observing the scene with their glasses with AR capabilities that reveals who the insurgents are. This strikes me as funny because what they are doing is the opposite of blending in—Caleb and company all happened to wear glasses and 'hanging out'. Nothing to see here, nosiree… move along.
The kind of airstrike deployed is known as kinetic bombardment. Instead of your garden-variety bomb, you're dropping a rod from sub-orbital heights and as the object falls it reaches terminal velocity and obliterates upon impact. Unlike conventional bombs with their chemical payloads, kinetic bombardment does not leave behind harmful radiation, although, the disadvantages of kinetic bombardment are the  technical difficulties of ensuring accuracy and the expenses of launching said rod from space.
Solomon fills in the blanks of Caleb's past and this is what we know of it: Caleb used to be with the military with Francis; they got into some shit in Crimea and they were discharged; they are deemed as outliers, ended up in Serac's reeducation centres, got brainwashed and became hunters for other outliers; they captured Whitman (Enrico Colantoni or what's up Mr Mars!), the CEO of a pharmaceutical company, who is branded an outlier by Rehoboam because he asked too many questions. Oh, and Caleb killed Francis before Francis could kill him.
So, Caleb isn't who he thinks he is but I'm gonna go one step further and add this: how much of Caleb's flashback can we actually trust? Maybe his Crimea deployment was a plant; maybe there's something else buried in his psyche that we're not piecing together.
We see that outliers are kept on ice. Not dead, merely sleeping. That includes Serac's brother Jean-Mi (Paul Cooper), whom we discover is schizophrenic. Is it any wonder that his invention, Solomon, would inherit the traits of its parent? The multiple simulations and outcomes have rendered Solomon 'insane' but Dolores needs it to share its final solution, one that was meant for Jean-Mi before he was cryogenically-frozen.
Just before Solomon could fulfil her request, Maeve arrives.
The expression, never bring a knife to a gunfight is a good advice to take. Sure, it looks kinda badass of Maeve brandishing a katana but when face with a gun that fires bullets at you, you might wanna rethink your weapon of choice. Still, it was a thrilling fight between Dolores and Maeve.
As Dolores buys Caleb time to retrieve Solomon's plan, she unleashes the EMP, which took out Solomon, Dolores, Maeve and any other electronics within the blast zone. Caleb escapes with Solomon's final plan while Bernard, Ashley and William leave Inner Journeys. Here's where we see each man's motivation, clear as a bell: Caleb wants to carry on Dolores' dream and free the hosts; William wants to destroy all hosts.
And before we end, whenever someone says that he will kill you if you don't kill him first, take his word and just kill him. Bernard didn't listen to William and when they stop at an abandoned petrol station, William appears with a gun that he found, aimed at Bernard and Ashley.
Stupid, stupid Bernard.
Other takeaways:
The episode's title refers to a chess term where the pawn reaches the other end of the chessboard without any interference of opposing pawns. This 'passed pawn' in question is Caleb, whom Dolores has orchestrated to lead the revolution.
It's kinda ingenious that the Rico app is used to collect
Host Charlotte told Host Musashi that the Dolores copies are meant to be sacrificial lambs—just cogs in Dolores' grand scheme. We can't help but feel like Dolores' fatalism is for the greater good for the emancipation of her kind.
If an all-knowing system asks if you have a preferred voice that you'd like to hear it in, go nuts. I wonder if someone has overlaid Gilbert Gottfried's voice on to that scene…
An EMP blast can temporarily knock out or permanently damage machines. I hope that for Maeve and Dolores, its just the former (though with a military-grade EMP, it might lean towards the latter).
We find out what's in Dolores' bag: a high-velocity rifle that releases a drone that maps out where your targets are. Very useful, if you don't have a long-range scope that sees through walls.
Caleb can't just be an aggrieved ex-soldier who was the subject of horrible experiments, I feel that there's something more to him than meets the eye.
This is it. Next episode is the endgame. (I hope that Host Musashi's severed torso pays off.) HBO has already ordered another season of Westworld so we'll have to see what the next episode will hold that will shape the next season.
Thanks for reading. Do check out the next Westworld analysis next week. Westworld is shown every Monday at 9am SGT / Sundays at 10pm PST on HBO and HBO GO.
---
Episode 6: "Decoherence"
aka Host Charlotte (played by Tess a Thompson) fights the clock; Maeve (Thandie Newton) puts together a team and William (Ed Harris) attempts self-therapy.
Maeve still lives.
I mean, of course, she's still alive; she part of the main cast. But most importantly, she's a host. When it comes to the hosts, dying is tricky. We know that back at the Delos parks if a host dies, the Cradle has a back-up of the host's memory and simply backs it up to a new body.
But the host can still encounter permadeath, if their control units (aka pearls) were to be destroyed. Which is the case for a certain character but we're getting ahead of ourselves…
The only reason why Maeve lost to Dolores was that she didn't have help. So, after Host Musashi (Hiroyuki Sanada)—who is a copy of Dolores' memories—killed her, Maeve ended up in the Valley Beyond or something that looks like it because Serac (Vincent Cassel) appears like a bad penny. Once more he dangles the carrot that is Maeve's daughter and Maeve embarks on the path to take down Dolores, this time with a little help from her friends.
So, Maeve returns to War World…. but why? It looked like she's waiting in the simulation so that her body is created but wouldn't it be easier if Serac placed her in a waiting room that's more relaxing than kicking Nazis' asses (on second thoughts, putting grievous hurt to Nazis, might be a good way to pass the time).
Simon Quarterman (Lee Sizemore) appears after Maeve left him back in episode two, "The Winter Line". And if Simon is present, then Hector (Rodrigo Santoro) is as well. After inducting him into his team (not Simon though, because he's a simulation), we discover that Maeve and Hector's bodies are being made in… Delos head office. But how?
We have Serac to thank for that. Host Charlotte's bid to privatise Delos to bar Serac from buying it is upended with Serac killing a key board member. It's a hostile takeover as Serac and his men arrive at Delos HQ and inform the board that he wants all of Delos IP destroyed, in the hopes of cutting off any possible back-ups that Dolores might have made. Serac highly suspects that a copy of Dolores has infiltrated Delos and tasked Host Charlotte to find her. And to think that Host Charlotte started her morning on a good note.
Earlier, Jake (Michael Ealy) the estranged husband of the real Charlotte, reveals that he wants to make this relationship with her work. When Jake says, that it's not up to a machine to decide their fates, not only does this apply to Rehoboam's analytical profiles on them, it also applies to Dolores' hold on Host Charlotte. Host Charlotte has been having doubts about her mission and Host Connells' (Tommy Flanagan) suicide in the last episode furthers adds to her uncertainty. Maybe its time for Host Charlotte to cut ties with Dolores and live a life with her new family.
Anyway, Host Charlotte copies all the host data and sent it off but then she discovers that host bodies are being printed up at Serac's behest. It's Maeve and company. Host Charlotte is about to take care of business when Serac outs her as Dolores' copy. With her identity revealed, all bets are off as Host Charlotte kills off Serac's men like she's popping bubble wrap. She eventually ends up at the production room, where Maeve and company's bodies are being printed and destroys Hector's pearl (RIP). Just as she's about to go for Maeve, Serac's men butts in. Time for Host Charlotte to make her escape.
And she did. She got to Jake and her son and the three of them are making their getaway. It's a perfect end to- ah, who are we kidding, the vehicle they were travelling in blows up. Just as we write off Host Charlotte, she emerges from the flaming wreck, her hair is burnt off, skin blistering, her eyes are full of rage. This isn't over.
This episode also follows William's stay at Inner Journey, one of the reeducation centre. How is it going, you ask? Well, he's not making friends at a sharing session with other patients and his therapist killed herself because of her profile from Rehoboam.
William is assigned AR therapy and I thought that there was a continuity mistake because he possesses all his fingers on his right hand. Then, I saw Jonathan Tucker (whom we saw as the host Major Craddock) who is William's orderly, which raised alarms. It certainly became clear that William is already in his AR therapy when he enters a room filled with other versions of himself—him as a kid; William before he became the Man in Black (Jimmi Simpson); William as the Man in Black; William the Philanthropist—and the session is led by James Delos (Peter Mullan).
This is literally self-help as William dives into his past. For most of the season, William operates on the belief that he is the way he is because of childhood trauma but we discovered that he was just a violent person from the get-go.
It was once mentioned that Westworld isn't a place where it changes people to be the worst, it just reveals who they are beneath the surface. William's bad self was just buried, hidden away neatly. And just how terrible is William? Well, if you remember that William's wife once peeked at his data collected from his time at Westworld and it drove her to suicide.
This is the breakthrough that William needed. The realisation that in this story, his story, he is the "good guy" (after all, villains never see themselves as villains). Hopefully, William sees a good outcome for himself because for someone with a violent streak, hopefully, he's aware that "these violent delights have violent ends."
Other takeaways:
The episode's title probably refers to quantum decoherence, whereby a "coherent quantum state is degraded by the presence of outside measurement". Or simply, the well-laid plans of mice and men come undone by just being… mice and men.
Serac's man, that dude who saw Host Charlotte copying the host data and wanted to tell on her… that was such a petty bitch move. #snitchesgettheirnecksbroken
Also, I'm amazed at their reception and how it is able to deliver ALL THE HOST DATA in such a short amount of time.
So four host bodies were being prepped for upload: Maeve's; Hector's (RIP) and two others. We sorta know one of them to be Clementine Pennyfeather (Angela Sarafyan) thanks to the ID number but the other ID number drew a blank. If Maeve is recruiting muscle for her expedition, it could either be Armistice (Ingrid Bolsø Berdal) or her Shogun World counterpart, Hanaryo (Tao Oakmoto).
A small quibble: Host Connells told Bernard and Ashley where William would be housed in but Host Charlotte had to find out where William is when the facility examines a sample of his blood? Aren't you guys on the same team here? What's going on?
Not going to lie, I thoroughly enjoy that therapy session with the multiple Williams. I don't think I've seen Ed Harris in a comedic role but this is the closest I've seen and I'll take it.
We can put to rest on whether William is a host or not. When they processed his blood, they found "synthetic markers" but these were injected by Host Charlotte in the fourth episode as a tracker device.
Thanks for reading. Do check out the next Westworld analysis next week. Westworld is shown every Monday at 9am SGT / Sundays at 10pm PST on HBO and HBO GO.
---
Episode 5: "Genre"
aka Serac's (Vincent Cassel) origin, Dolores (played by Evan Rachel Wood) gives the world the curse of knowledge and there's more to Caleb (Aaron Paul) than meets the eye.
Now we come to the meat of Dolores' plan (hmmm, that's a weird way of phrasing it). All this while, we're under the impression that she was trying to liberate the hosts when in reality, she was trying to liberate humankind.
Remember Rehoboam (of course you do, I never shut up about that predictive algorithm system)? This was the system that holds all the world's data—from the environment to politics to personal history—and able to extrapolate possible outcomes. As we've discovered with Caleb, Rehoboam pegged him as a probable suicide. Dolores broke Caleb from his loop and now he is helping her with her plans… to let the rest of the world know about their futures: by releasing all the files that Rehoboam has on every one of them.
It will seem that humans and  hosts aren't that different. The hosts are preprogrammed to perform a certain way; humans are stuck in their ways that even your speech is dictated by some internal script. We see an example as Dolores rattles off the same protestation that Liam Dempsey Jr (John Gallagher Jr) gave on the train. Because Dolores is that anomaly that Rehoboam fails to account for, she's one step ahead of the competition.
A thought experiment: if you could know everything that will happen to you in the future, would you? That seems to be the crux of this episode: the curse of knowing or the bliss of ignorance? Liam is mortified that Dolores wants to unleash all this information onto the world. There will be chaos, he says and that's what Dolores wants. Because chaos means unpredictability and unpredictability means determinism can kiss her ass.
Will the human mind be set free or weighed down by this knowledge? It sure looks like having full knowledge of your future can be devastating, judging by the sad and contemplative faces of the public. Surely, there's someone out there who ends up rich and dies in his or her sleep, right? Can't there be, at least, one person doing cartwheels or some shit?
While Dolores is accessing Rehoboam, she downloaded Serac's file because you gotta know thy enemy. And that's when my suspension of disbelief falters because if Serac is the co-creator of Rehoboam, wouldn't it make sense that he'd have erased his own profile from the system? I mean, that's like me inventing the world's best gun and I have the barrel pointed at my head the entire time. Maybe Serac planted his profile in Rehoboam as it's a feint, who knows?
When it comes to telling the future, we don't know the extent of Rehoboam's analytical powers. Sure it's able to come up with probable scenarios but are they predictions or just the narrative that they want to sell? I'm leaning towards the latter. As exemplified, in the meeting with President Filo (Al Coronel), Serac promised that he would remain in power if he wiped out certain separatist factions. If he fails to do so, he will be ousted. This shows that Serac can manipulate events in his favour.
My favourite fun-loving criminals have return! Ash (Lena Waithe) and Giggles (Marshawn Lynch) are recruited (via the Rico app, no doubt) to aid Dolores. And we get to see more emotions that Giggles display on his t-shirt (is there a 'HORNY' option?). Hopefully, Giggles won't wear that top at a poker game.
Let's talk about the hallucinogens that Caleb was infected with, Genre. Basically, you take a hit of it and you spent the next few hours feeling like you're in several movies. (My question is: can I pick and choose the genre?)
The film genres that Caleb goes through are films that Jonathan Nolan loves. Caleb goes through noir; action; romance; drama and finally horror. Before the 'horror' phase kicked in, Caleb watched the aftermath of Dolores releasing Rehoboam's files to the world as David Bowie's "Space Oddity" plays in the background. We assume that Caleb is in the next phase of the drug but Giggles just said that its just reality that he's witnessing.
You know when the horror phase kicks in because these four notes sounds:
Yup, those first four notes of the Gregorian chant, the "Dies Irae" is also the most popular association with Stanley Kubrick's The Shining. So, what is the terrifying aspect that we're to expect? Well, how about Caleb isn't who he thinks he is… except we still have no idea who that is. Liam knows something but the only thing he proffers is a, "you did it." Did what though?
Again, Caleb is fine with this WITHHOLDING OF INFORMATION and  still goes along with Dolores' scheme even though it's clear that SHE KNOWS SOMETHING.
We also got a glimpse into Serac's past, from the devastation of Paris to him and his brother building a system to predict world events to the killing of Liam's dad. The huge takeaway from this is the reeducation centres that Serac built. This is a place for people that defy Rehoboam's predictive algorithm. People like Serac's brother, Jean-Mi (Paul Cooper) and Caleb. (In fact, we saw Caleb in a reeducation centre in one of his flashbacks.)
But what does this reeducation centre do? We see the outliers in glass room (which echoes the labs in Delos) and they are undergoing… something. Are the reeducation centres brainwashing them to conform to a narrative that they come up with? If this is the case… is—and this is a big theory—Caleb a reeducated Jean-Mi? There are three more episodes so we'll have to see…
Other takeaways:
Did anyone notice that the drug, Genre, is a stand-in for an experience at Delos park? Think about it. Genre lets you feel like you're in a movie and that's what Delos is as well; its escapism. Only that the former is a cheaper option than the latter.
Oh, Pom Klementieff… I wish she had more screen time. Weirdly, that the person who played Mantis in Guardians of the Galaxy series is reduced to… I dunno, as a background actor? If you remove her role as Martel from this season of Westworld, the narrative wouldn't be affected.
Oh, looks like we spoke too soon, the Man in Black (Ed Harris) will be back next episode. He's in Serac's reeducation centre and he's not going to go quietly into that good night. It looks like Bernard (Jeffrey Wright) and Ashley (Luke Hemsworth) will be heading there next, thanks to Host Martin's (Tommy Flanagan) tip.
What's in the bag, Caleb? WHAT'S IN THE BAG?
Thanks for reading. Do check out the next Westworld analysis next week. Westworld is shown every Monday at 9am SGT / Sundays at 10pm PST on HBO and HBO GO.
---
Episode 4: "The Mother of Exiles"
aka the pearls' identities are revealed, Bernard (Jeffrey Wright) comes up short against Dolores (Evan Rachel Wood) and is the return of the Man in Black needed?
You've to wonder about the discussion to have Ed Harris to appear in the fourth episode, which is the season's midpoint. If it were up to me, I'd have him show up in the second, or the third episode… a fourth episode appearance seems late given his role in the last season. It almost as if… *gasp* William won't be pivotal in this season's narrative and is currently being written out.
William has always wanted to dive beneath the surface of things. In season one, William's wanted to discover the secret behind the Maze, only to discover that this was only meant for the hosts and not for the human guests. In season two, he's on a quest to find the Door—again, this is meant for the hosts—and then, in a sneaky post-credit scene of the finale… we discover that he's a host.
So, what does this mean?
It could be that the post-credit scene takes place in the future ("This isn't a simulation," Host Emily (Kathja Herbers) says. "This is your world. Or what's left of it.") and that in the fidelity test, Host William might be reliving the whole of season two. Maybe.
Which brings us to now, where we find William recuperating at his home, still reeling from the events at Westworld and murdering his daughter, Emily. But putting his personal crisis aside, his company, Delos, still needs saving. Enter Host Charlotte (Tessa Thompson), who tells him about Serac (Vincent Cassel) trying to buy a majority stake in Delos and that the only way to counter that is to make Delos private, which would prevent Serac from further purchase.
William does so, which plays right into Host Charlotte's hands as William is taken away to be institutionalised. Judge incompetent, William's voting right is passed to Host Charlotte, who will further her bid in privatising Delos.
It's a bit of a weird closure for William, whose storyline has always been somewhat adjacent to the meat of Westworld's plot. Terrific acting by Harris but, again, the character's arc was a bit of a letdown.
Meanwhile, Bernard and Ashley (Luke Hemsworth) are trying to figure out Dolores' scheme. Bernard is pretty sure that she will swap Incite's CEO, Liam Dempsey Jr (John Gallagher Jr) with a host. He plans to stop Host Liam by freezing his motor functions and interrogating him on where the rest of Dolores' hosts are. First of all, it's weird that Bernard is acting on the assumption that Liam will be a host by the time they get to him. Bernard is 100 percent sure in this plan of action that there's no plan B or anything. Given the stakes, I'd go for a sure thing, which is to go for Host Charlotte instead of Maybe Host Liam for information. It's not a sound plan, which further indicates that Bernard is compromised by Dolores' meddling.
Also, I really love the interplay between Bernard and Ashley. I mean, don't they make the cutest buddy cop movie ever?
We see the start of a heist with Dolores (Evan Rachel Wood) and Caleb (Aaron Paul) at a boutique. Caleb needs to dress the part in order to rob Liam of his monies. There's the light sprinkling of Ocean 11 magic involving cold-cocking a dude on the street, siphoning his blood and injecting it straight into Caleb (eww, that can't be healthy) because the plasma holds an encryption key.
The crux of this heist is acting like you're trustworthy enough to order a transaction of Liam's funds into another account. Especially when you have to pull a wool over the steely gaze of Nikki Muller (who plays the Financial Advisor). The suspense, the teasing of the tension… I live for these sort of moments that breaks up the gravitas of Westworld.
Up to now, I don't know how Caleb is still on Team Dolores after she neglects to tell him that he needed to be injected with someone else's blood. It doesn't seem to look like Caleb is privy to her plans so there needs to be more to this alliance.
Dolores and Caleb head to an Eyes Wide Shut-themed sex party to kidnap Liam and wouldn't you know it, Bernard and Ashley are there as well. Seeing as Liam isn't a host, Bernard and Ashley resort to kidnapping him. Dolores isn't gonna let this affront stand so she proceeds to kick Ashley's ass. Bernard almost escapes with Liam but Caleb intercepts them. Host Martin (Tommy Flanagan) comes to Liam rescue- ah-ha psych! Host Martin's actually working with Dolores. And double-psych! Host Martin is actually Dolores all along.
Yeah, apparently Dolores didn't smuggle out five pearls of other hosts, they were actually copies of herself. We did touch on that in an analysis for the first episode. Guess, we should have stuck to our guns. I suppose that if you want to get it done right, you'd do it yourself.
So, if a host is able to make copies of oneself, this opens up more questions on identity issues; we've seen Host Charlotte struggle with it trying to pretending to be Charlotte Hale. What happens when a consciousness doesn't assimilate well into a new body? Do the copies think about whether being the original is the best? Is there a hierarchy going on?
Finally, we have Maeve's (Thandie Newton) storyline. She and Serac have a tête-à-tête at Atlas Bar. Given its interior, it fits in with the show. Serac gives a compelling sales pitch: seeing humanity as a threat, Serac creates Rehoboam, which takes all data to produce a 'mirror world', one that postulates predictions. In this "mirror world", data from humans are used to map out their lives. Remember the last episode where Dolores reads to Caleb that he's most likely to commit suicide based on his history? Serac wants the key to the Forge, which housed all the data from guests at Westworld.
We also find out that Paris, Serac's home, was destroyed in a thermonuclear accident. He's spurred by that incident to never let things go out of his control. If Maeve helps him find Dolores, Serac promises that Maeve can finally join her daughter.
Maeve's journey finally leads her to Musashi (Hiroyuki Sanada) and she finds out that his mind is also a copy of Dolores.
But despite being skilled with the katana, Maeve is no match to Host Musashi's swordsmanship and lies bleeding to death in a pool of that white stuff that the hosts are made from.
Is this the end of Maeve? We doubt it. Serac's men were at Host Musashi's door which caused him to flee so Maeve will be rescued. But with four episodes left, we're seeing Dolores' plan bearing fruit. And it's gonna be big seeing as how much of the white substance that Host Musashi was transporting.
Other takeaways:
Tonight's episode title is taken from Emma Lazarus' sonnet, "The New Colossus". In it, there's a reference to the Statue of Liberty as "A mighty woman with a torch, whose flame / Is the imprisoned lightning, and her name / Mother of Exiles". The statue is the first thing that immigrants arriving at Ellis Island would see; this is the symbol that Lazarus wants the tired, the poor, the huddled masses yearning to breathe free to hold on to—that stubborn hope of a new home and opportunity. This is what Dolores sees herself as: liberator of the hosts and shepherd to the promised land.
The distillery that Maeve enters is called the "Itaidoshin Distillery". If you're not up to snuff with your Buddhism, "itai doshin" means "many in body, one in mind", which alludes to Dolores making multiple copies of her selves in different bodies.
When Host Charlotte is shaving William with the razor, it hearkens back to a scene where Dolores shaved William.
Ugh, a masked sex party sounds… tiring.
I'm still a little confused about the pearls. We know Dolores (who was inhabiting a host Charlotte's body) smuggled five of them out of Westworld in last season's finale. Two of them became Bernard (made from Dolores' memories of him) and Host Charlotte (Dolores copy). Then, she used two more for Host Martin and Host Musashi. This leaves one left. Has that been used? Or does someone out there have her consciousness?
To recap, the Sector 16 Project is actually The Valley Beyond that Ford was working on. It's where the hosts could upload their consciousness and leave behind their host bodies. Why Serac is after this, we'll have to wait to find out in future episodes.
We see the future a little more fleshed out with rockets landing and take-off. This is a future where Space X is possible.
So, judging by the scenes, Arnold Weber's (the man Bernard Lowe is modelled after) house is actually set in Singapore. It looks great but the mortgage on it must be hell.
Thanks for reading. Do check out the next Westworld analysis next week. Westworld is shown every Monday at 9am SGT / Sundays at 10pm PST on HBO and HBO GO.
---
Episode 3: "The Absence of Field"
aka the real Charlotte Hale's life revealed, the mystery of Host Charlotte deepens and Dolores and Caleb share a moment.
When a species that isn't native to a specific land is introduced into said location, its presence can upset the ecosystem. This is an invasive species. Think of the cane toad invasion in Australia or the introduction of Asian carps in America.
But sometimes, this infiltration can do more damage to the infiltrator instead of its surrounding; case-in-point: Charlotte (played by Tessa Thompson)—fake Charlotte, who is imbued with an unknown consciousness—is having something akin to an existential crisis.
To recap: Dolores (Evan Rachel Wood) killed the real Charlotte and has uploaded a mystery consciousness into a host Charlotte. Under Dolores' orders, Host Charlotte infiltrated Delos Destinations, Inc in order to run the company and protect the surviving hosts. But being the interim CEO of Delos isn't easy. First, Host Charlotte needs to stop Serac (Vincent Cassel) from sweeping up any more stake in the company; second, she needs to flush out a mole in Delos.
On top of these, Host Charlotte is finding it hard to play her role: the body she's inhabiting is alien to her. And the life that comes with it instills a sense of guilt (we discovers that not only is the real Charlotte Hale a ballbuster at work, she has a son and an estranged husband). It takes a toll on her. Manifesting, at first, as tics, picking at her skin, before it graduates to cutting herself. Host Charlotte suffers from body dysmorphia.
So, Dolores steps in to calm Host Charlotte down. She mends her, tells her that she "belongs to [her]" and lulls Host Charlotte into the safety of sleep.
"You belong to me." That's important. It denotes a familiarity that's intimate. Could it be Teddy Flood (James Marsden) in Host Charlotte's body? Or someone else? So far, we've seen Dolores used three out of five pearls—Host Charlotte; Host Martin (Tommy Flanagan) and Bernard (Jeffrey Wright); there are still two pearls left accounted for.
In another twist, Host Charlotte discovers that Delos mole is… the real Charlotte Hale. She made a deal with Serac, promising him data of all the guests that were at Westworld. We can assume that Serac requires more data for the Rehoboam but for what end?
The secondary storyline picks up from the first episode after Caleb finds the injured Dolores. He's escorting her to the hospital, and taking the initiative to provide oxygen and a blood transfusion on her. The entire moment reveals to us how realistic a host's physiology is, only stopping short of giving a reading on the EKG machine. Dolores isn't out of the woods though. Some corrupt cops hired through our fun-loving criminal app, Rico, has stopped the ambulance. A shoot-out later, Dolores and Caleb are left standing. As she leaves, she tells Caleb to go into hiding.
Caleb (Aaron Paul) and Dolores (Evan Rachel Wood) finding out that the two of them have much more in common than they think.
He goes to see his mother anyway and then finding himself at the mercy of some very bad men who wants to know where Dolores is. They soon find out when Dolores appears to shoot them and rescues Caleb. So, what do you do when you return the favour by saving one from certain death? You have breakfast at the diner, where Caleb's mom abandoned him at when he was just a child.
Maybe it's this shared feeling of loss that enjoins Dolores and Caleb; maybe it's the revelation that Caleb is so easy to read that an algorithm predicts that he will kill himself but there's something about realising that everybody think that they have you figured out. The world might deny you opportunities but the act of staying put or just existing is enough to upend whatever predicated outcome they might.
Dolores wants to 'show the world for what it is'. And with Caleb's help, they might just succeed.
Other takeaways:
Tonight's episode title is from a Mark Strand poem, "Keeping Things Whole", which is about the poet's presence in the natural world that's ruined by his intrusion.
It makes no sense that Dolores has a transcript to what happened to Caleb as a kid. I mean, were there recording devices present when his mother left him? It doesn't make a lick of sense… unless, the reason that Dolores knows the nitty-gritty of that incident, is because Caleb is a host and that was just a narrative input into him.
This is a future where animals, like elephants, are just a distant memory. Like rotary phones or smallpox… nope, spoke too soon.  Just rotary phones then. #vaccinateyourkids
Caleb is a war vet and he has something installed in the roof of his mouth called 'drip'. I could be wrong but it seems to be put there by the government and it controls the soldier's vitals and PTSD.
The Rehoboam system predicts upheavals in the world so that whatever episode can be quash before it even begin. After tonight's episode, we see that Rehoboam also maps out possible outcomes for individuals.
Poor George (Caleb's robot construction companion). I wish you made a bigger impact than just stupidly falling off a girder.
Thanks for reading. Do check out the next Westworld analysis next week. Westworld is shown every Monday at 9am SGT / Sundays at 10pm PST on HBO and HBO GO.
---
Episode 2: "The Winter Line"
aka Nazis, familiar faces and a crossover.
We won't be seeing Dolores (played by Evan Rachel Wood) or Caleb (Aaron Paul). It's also pretty straightforward with two parallel storylines. This is all about Maeve (Thandie Newton) with Bernard (Jeffrey Wright) supporting her.
We open up in Nazi-occupied Italy where Maeve is now a resistance spy, tasked to smuggle out a map; this is WarWorld. We last saw Maeve being gunned down after helping her daughter escape into the Valley Beyond (a virtual world that's a haven for the hosts' consciousness). Valley Beyond is kinda like a heaven for robots and it's also permadeath for the hosts in the real world because Maeve, also, destroyed the hosts' backup server. This is important because Hector Escaton (Rodrigo Santoro) appears in WarWorld to rescue Maeve, which is weird because Hector died in the last season.
And curiouser and curiouser: Maeve can't control the hosts.
As Hector and Maeve make their way to the plane for their escape, she realises that Hector doesn't recognise her. Seeing Hector die (again) in a shootout with the Nazis, she kills herself, knowing that she'll end up back in the labs. Maybe she'll get some answers.
But when she comes to, she gets more questions than answers. She sees the techguys, Felix (Leonardo Nam) and Sylvester (Ptolemy Slocum), but they don't recognise her. Just when Maeve is about to choose permadeath (a self-lobotomy to destroy her Control Unit) than be apprehended by security, Lee Sizemore (Simon Quarterman) steps hobbles in and claims that Maeve is just going through the motions of the narrative given to her.
Now, we saw Lee crumbling under a hail of bullets in the last season but now he's still alive, still standing. He tells Maeve that he survived and wants to help her find her daughter again.
Meanwhile, Bernard finally makes his way back to Westworld, which is crazy because you'd think that he'd, at least, face some security. He returns to Robert Ford's (Sir Anthony Hopkins) lab. There, he sees copies of himself and Ashley Stubbs (Luke Hemsworth), apparently dead from a self-inflicted gunshot to the head.
Ha. Kidding. Dude's totes alive. Apparently, under Robert's command, Ashley was to trigger the explosive charge in his neck (hosts are fixed with an explosive charge in their C6 vertebra to prevent them from leaving the parks) to erase all evidence of the previous Bernard models. For some reason, Ashley missed, but Bernard fixes him up with an explosive-free C6 vertebra and enlists his help to find Maeve.
Back in WarWorld, Maeve and Lee finally reach the Mesa Hub's control room but Maeve discovers that Lee isn't… well, human. In fact, nothing is real and Maeve is actually in a simulation. Here's a neat visual detail: when Lee starts glitching and the world around them starts to lose its coherence, take note of how the screen starts to go into letterbox format. It's as though when Maeve realises that this is nothing more than a simulation, it is all that she could see. The show continues between full-screen and letterbox (real world and virtual world).
At the same time, Bernard and Ashley find Maeve's host body but her Control Unit (those orbs that house the hosts' consciousness; also the ones that Dolores took with her when she left Westworld) is missing. So, they decided to go to the lab to find out where Maeve's Control Unit could be but Bernard is unable to hack into its system. Bernard decides to run a thorough diagnosis on himself to see if Dolores has placed any corruption code in him. The result is inconclusive but he has a lead: a name—Liam Dempsey Jr; Dolores' target.
Back to Maeve; she doesn't know why she's singled out to be part of a simulation but, damn it, she's going to try and break out of it. She discovers that the system behind this virtual world operates at a limited processing power. She knows this from asking the programmers what the square root of -1 is; apparently machines can't deal with imaginary numbers. Then, again, if you ask me what a cosine is, I'll probably just sputter and go into a coma or something. Math isn't my strong suit.
Taking advantage of the system's processing powers, Maeve plants maps on all the Nazi soldiers and fires up the WarWorld scenario once more. If the Nazis are trying to find the spy with the map, Maeve shows them that if they all have the map, ergo, they must be spies. With this irrefutable logic, the Nazis shoot one another and the system hangs, allowing Maeve to hack outside to the real world where she hijacks a robot to break her Control Unit out from the operating system keeping her consciousness prisoner.
And she would have gotten away scot-free if it weren't for those meddling trigger-happy security officers.
Near the start of the episode, when Maeve goes over to a dying Hector, she says, by way of comfort, that nothing matters because none of this world is real. She was talking about the loop that hosts are engaged in. But now it's on a larger scale. Now she's a consciousness trapped in a simulation. Which begs the question: if you can trick a host into thinking that a simulation is a reality, that makes it a little closer to humans, no? Or, maybe, humans are like hosts.
But Maeve wakes up to find herself back in her real body. She meets the man behind her imprisonment: Serac (Vincent Cassel), the co-creator of Incite's Rehoboam. He thought that Maeve was the mastermind behind the uprising in Westworld and kept her in a simulation to learn more about her. Until he realised that it's actually Dolores who orchestrated the revolt.
Serac asks Maeve to help him find and take down Dolores. She refuses and is about to stab Serac when he freezes her motor functions with a remote control in his hand. We see problems with Serac's plan as he could have easily just program Maeve to not kill him but no. Why not dress up as a Bond villain and use a very flimsy method of control?
This is going to bite Serac in the ass down the line.
Other takeaways:
Here's another theory: what if the outside world is one huge simulation? Given what we see with Maeve, it feels like a possibility. The idea of our existence is one virtual experience isn't new but going down this theoretical path, can open the show to more possibilities.
The episode title, "The Winter Line", is named after the fortifications by German and Italian military during World War II.
I'm actually glad that Lee Sizemore is dead. His death in the last season was the result of his character choosing not to be selfish. It's sad that we won't be seeing him but Lee still being alive takes away from that sacrifice.
I can't help but think that whatever Bernard is doing is just playing into Dolores' hands. I mean, didn't she bring him back? Surely she has contingencies in place, in case Bernard decides to betray her.
It's good to see David Benioff and DB Weiss (creators of Game of Thrones) cameoing as technicians for MedievalWorld (or Westerosworld, amirite?) It's a small detour from something as serious as Westworld has been thus far.
Also, kinda bummed that Drogon goes out like a chump at the mercy of a hacksaw.
Thanks for reading. Do check out the next Westworld analysis next week. Westworld is shown every Monday at 9am SGT / Sundays at 10pm PST on HBO and HBO GO.
---
Episode 1: "Parce Domine"
aka "Welcome to Singapore."
Before we get into it,  this calls for a recap of last season, no? Go on, I'll wait.
All right, ready? Let's begin…
Westworld wasn't always gonna remain in Westworld. Eventually, as the story progresses, we'll have to look at the rest of the world that the parks are based in. That's a high bar to clear, given the animatronic wonders Delos had to offer; the outside world has to really make an impression.
We weren't disappointed. It's the future that's shaped to be more realised than ever. Not only do you have worker robots and flying cars, now you have a therapy sessions that allows you to chat to your deceased friend through a bot (one, I'm assuming, has machine-learned your chat history). Also, how cool is that app, Ri¢o, that puts up criminal gigs that you can take up. It reminds me of the optional side quests that you can accept in the Grand Theft Auto series.
And then, we meet the central McGuffin: Rehoboam, a sophisticated data analysis system… but we're getting ahead of ourselves…
Last we saw Dolores (played by Evan Rachel Wood), she escaped Delos by inhabiting a host Charlotte (Tessa Thompson) and bringing back Bernard (Jeffrey Wright).
The start of this season, Dolores is trying to get certain files from Gerald that kept after leaving Incite. And—surprise, surprise—Gerald also happened to be Dolores' rapist-and-murderer back in the old Westworld days.
But Gerald can't seem to keep his inner demons within the parks confines. It's inferred that he abused and murdered his first wife. It brings up something interesting about human nature, that, like the hosts, humans are prone to going through their own loops. After Dolores lets him go after she got what she wanted, Gerald dies by his own hand, drowning in the same pool that his last wife had ended up in.
We're introduced to Caleb Nichols (Aaron Paul), a veteran, who is now a construction worker and hustling on the side, doing criminal shit. His presence in Westworld is to challenge Dolores' perception of humanity (pssst: mankind is scum)—if the first two seasons were from the hosts' perspectives, Caleb is the humans' perspective set in a futuristic world.
We discover that he's talking to Francis (Kid Cudi) through an app and that this communication is all part of Caleb's grief therapy after he saw the real Francis die during a robbery gone wrong. Despite the criminal streak, Caleb has a moral compass ("I don't do personals"), the sort of ethos that will no doubt upend is rather boring life and have him join the ranks of other antiheroes like Léon ("No women, no kids.") and Dexter Morgan ("The Code of Harry").
(Out of the gate, there's already speculation about whether Caleb is a host or not. When he visits his mother in the hospital, she doesn't recognise him due to her Alzheimer but that could also be that Caleb isn't really her son. We'll see as the season progresses.)
Charlotte is still as badass as ever; you have to be when you're a black woman who is also Delos' interim CEO—balls must be broken and the showcase of emotions are a no-no. Case in point, during a Delos boardroom meeting, she mutes a male board member because he was being yappy. (Was anyone reminded of America's gun debate when Charlotte intones, "robots don't kill people, people kill people." Very in line for someone who wants to maintain profit by continuing production.) The missing board member… that's William (Ed Harris), right? But where is he? Recuperating? On sabbatical? What?
Originally, I was under the impression that this Charlotte is a copy of Dolores' consciousness but that's not the case. This is an unknown host inhabiting Charlotte's body. But it does bring up an interesting idea of whether a host is able to replicate his or her own consciousness in another body. I mean, technically they should be able to do so, right?
We now meet Bernard, who is working on a farm under a new identity—"Armand Delgado"—which the creators, Lisa Joy and Jonathan Nolan, confirmed in an interview with Insider, is an anagram, "Damaged Arnold". Names hold meaning in Westworld and "Damaged Arnold" is already showing signs as Bernard, unsure of his own controls, self-diagnoses himself and can switch to combat mode at the press of a button.
He is on the lam because he's falsely accused of orchestrating the Delos uprising but what happened between last season's finale and now? It felt like there was a plan brewing but now Bernard looks worse for the wear. Was there a falling out? We'll find out in future episodes but for now, Bernard's cover is blown and now he needs to return to Westworld.
We finally get to see Dolores' plan: to get cozy with the figure head of Incite, Liam Dempsey Jr (in a coincidental moment, played by the similar-sounding, John Gallagher Jr) in order to get even closer to the data analytical computer, Rehoboam.
As mentioned before, names mean something in Westworld and, unless you're up to snuff with your Bible, here's what Rehoboam is: not only is he the ruler of the Kingdom of Judah, he is also the son of King Solomon—Solomon, which is name of the previous data analysis system that was instrumental in sussing out problems and solving it. If you take a gander at the video below, there are 'divergences' (worldly upheavals) that were quelled when Solomon system was operational.
Then a critical divergence dated the 27th February, 2058, which is the day the hosts rebelled. Due to this oversight of this event, the Solomon system is replaced by the Rehoboam system. What Dolores plans to do with a data analysis system remains to be seen.
Dolores' plans hit a snag when Martin Cornells (Tommy Flanagan), a fixer at Incite, discovers that she's not whom she says she is and proceeds to do away with her. She manages to escape her restraints and kills Martin's men with impunity (you'll never hear Pulp's 'Common People' the same way). Dolores manages to hold her own until she's gut shot. That's when Caleb swoops in to rescue her; the incident going down as one of the more intense cute-meet ever.
(Caleb rescuing her echoes the time Teddy Flood (James Marsden) rescues Dolores back in Westworld.)
Oh, and Martin Cornells dies… at the hands of Martin Cornells (not your day if you get offed by your doppelgänger). This new host takes the place of the actual (and very dead) Martin but, like Charlotte, this is an unknown personality that's inhabiting Martin host.
Apparently, future LA looks kinda like Singapore. If you haven't heard by now, some of the locations were shot here. You'll see the Helix Bridge; the lighted steps outside of Wisma Atria; the grounds of LASALLE College of the Arts and even Pulau Ubin.
It must be something that foreigners look at Singapore and sees the future. Image-wise, it's a step up from a pirate haven (Pirates of the Caribbean 3) or as the inspiration for Madripoor (Marvel comics). I mean, don't you feel a tinge of pride when you see Caleb in the MRT train (we spotted Singapore-based actress, Cheryl Chitty Tan) or when the camera dollies the exterior of Oasia Hotel? Singaporeans kinda take these sights for granted  and it's lovely to see bits of our country as aspects of the future.
Other takeaways:
Who did Bernard get his style tips from? Simple Jack?
Another big question is whether what we're seeing isn't linear but multiple timelines that we're jumping back and forth on.
Can Giggles' (Marshawn Lynch) t-shirt be a real thing we can buy?
Check out the new intro. It's full of allegories and stuff you can decipher until the cows come home.
What's William's status?
And if you're wondering about Maeve (Thandie Newton), she's still alive and this time she's facing off Nazis in a theme park called Warworld.
Thanks for reading. Do check out the next Westworld analysis next week. Westworld is shown every Monday at 9am SGT / Sundays at 10pm PST on HBO and HBO GO.