Every watch maison needs a quintessential round icon, and Cartier has its Ballon Bleu. But this elegant model deftly subverts every design trope in classical watchmaking. Because with the Ballon Bleu, Cartier didn't so much design a watch as it provided a new vision of roundness. Until this elegant gentleman's timepiece came along, who knew that classical watchmaking could be this imaginative?
Ballon Bleu de Cartier was launched in 2007, making it one of the first 21st century watch pillars for the maison. The objective of this timepiece was clear: To present a timeless round offering in a world of shaped watches.
At that point, Cartier's watchmaking universe was populated by some of the most fabled horological icons of the modern era. Stalwarts such as the Tank and the Santos in multifarious permutations, the Tortue, and the Baignoire cemented Cartier's virtuosity with shaped designs.
Ballon Bleu's arrival completed this vivacious mélange with a classic round, while also bringing a cavalcade of surprises only a seasoned aesthete like Cartier could pull off. What are they? Let's find out.
Round is more than a shape
Creativity is the lifeblood of Cartier. For this reason, the manufacture is a master of shaped watches from square and rectangle to bell- and lozenge-shaped cases. Apart from the Pasha, the Ballon Bleu is this its first true foray into the classic round category. Ballon Bleu was also the first watch collection designed with 21stcentury sensibilities.
A unique monobloc construction
To ensure that nothing would disrupt the watch's pure lines, Cartier has to give the Ballon Bleu a monobloc construction where the horns and crown cap blend into the case middle. This allows all its curves to flow continuously into one another.
Curved on all sides
The Ballon Bleu may be a round watch but it would be more accurately described as a circle within a circle. Domed on both the front and back, it has a unique galet or pebble style case that's smooth, seamless, harmonious, and almost organic.
Integrated winding crown
This is the Ballon Bleu's most definitive feature as no other round watch bears an integrated winding crown—or could possibly make one as elegant as this. Protecting the crown and its cabochon-shaped blue spinel, it also blends perfectly into the case.
In-house movement Calibre 1847 MC
Visible through the exhibition case back, the automatic Calibre 1847 MC is a simple but efficient movement that powers other Cartier icons such as the Santos and the Pasha. A modern 4Hz calibre with 40-hour power reserve, it first appeared in the Clé de Cartier line.
The oval date window
With the introduction of a 40mm Ballon Bleu, Cartier now has three sizes for this timepiece: 36mm, 40mm, and 42mm. The latter two come with a date window which echoes the watch's curved profile, leaving a small but necessary indent on the railroad minutes track.
Ballon Bleu de Cartier 40mm in stainless steel.
Ballon Bleu de Cartier 40mm in stainless steel with leather strap.
Blued steel sword shaped hands
Except for highly unique circumstances, no Cartier watch would be complete without this feature. Here they bring out the elegant blue tones of the spinel set in the crown.
Roman numerals with 'Cartier' at seven
Likewise, no Cartier watch would be complete without this feature. The generous case size and near symmetry of the dial allows more than ample space for the numerals to sit comfortably.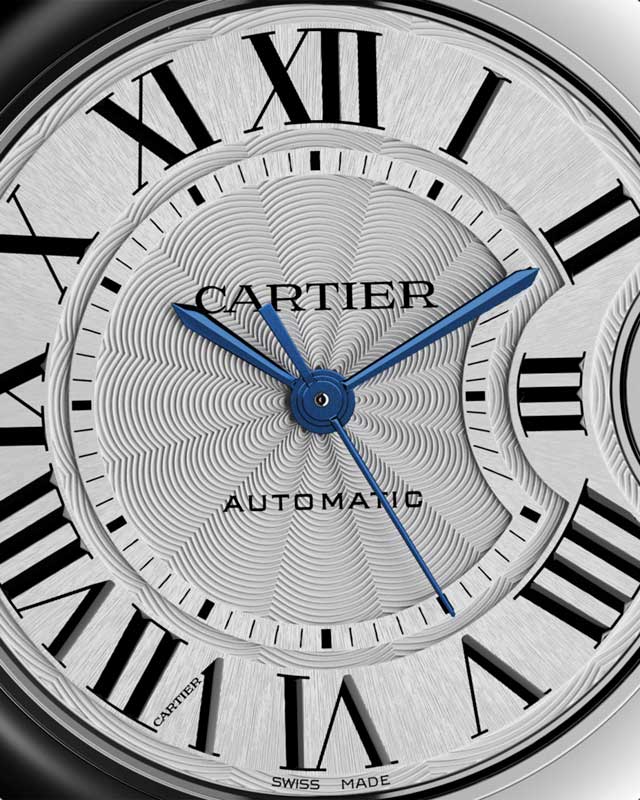 Silvered guilloché dial
Another Cartier watch signature, the silvered guilloché dial brings a touch of haute horlogerie to this everyday wearable timepiece. Its scalloped design provides a nice visual contrast with the matte finished chapter ring for the numerals which start and end at three o'clock, forming a capital letter C (for Cartier) hiding in plain sight.
Quickchange bracelet system
The revamped 40mm Ballon Bleu is one of Cartier's latest product families to offer its exclusive QuickSwitch bracelet with SmartLink adjustment system. Without tools or assistance, you can change from gold or steel bracelet to leather straps in no time at all.
Since its launch, both men as well as women have embraced the Ballon Bleu equally. Gents looking for a smaller, no-date option can easily wear the 36mm model, while ladies who need a functional yet stylish everyday watch could potentially go for the new 40mm.
But irrespective of size and style, here's the real reason everybody loves the Ballon Bleu: The watch's unique design means it's always recognisable even when viewed from the side.