Take away all the boozing and exchanging from Christmas and you're left with what the occasion can really be about—closing the year off with loved ones. To wrap it all in jolly celebration, catching up over a proper spread is often the way to go. This year, go all out by adorning the feast not just with stylish tableware, but the magic behind making the dishes stellar.
Whether foodie or (ambitious) amateur chef, WMF's extensive line up make ideal investments for yourself, or friends and family. The luxury cookware brand with more than 160 years of design heritage makes the entire process from prep to eating a culinary delight thanks to its robust material and meticulous craftsmanship. If you're looking for an ideal present that's practical in both form and function, here's what you get to choose from.
Spitzenklasse knife block set (SGD629)
We think of this a little like Thor's mjölnir. Combining traditional forging practices (where blades made of special blade steel are worked along their entire length using a forging hammer) with modern precision technology known as Performance Cut, for the knife blade to remain sharp for an extraordinarily long time. Without getting too technical, the knife blade steel gets heat-treated to become harder, allowing to be grounded to a sharper angle than was previously possible where a robot measures each individually for the optimum cutting angle using laser. Encompassing 30 works steps and exceeding the required DIN standard by double, they are also designed to fit comfortably in hand and give a professional look. Get what we mean about the mjölnir reference now?
Perfect Premium pressure cooker (SGD499)
The all-in-one, this one's the saviour for every level of cook (gourmand, if you're feeling fancy). Throw out the notions of a broth-maker; this pressure cooker has been gaining traction amongst users for its versatility by being tried and tested for starters, mains, and even desserts. Do some simple math with us—this machine reduces cooking time by 70 percent and thus saves an estimate 50 percent of energy, ultimately making the most bang for your buck. The detachable PerfectControl© handle unique to the brand allows for easy clean, but also intuitive adjustment for safe use.
Grill pan (SGD69) and Gourmet Plus serving pan (SGD189)
Perfect for families, the Gourmet Plus serving pan is a handy server that can go from hob to oven to table. Made from the brand's patented Cromargan® 18/10 stainless steel that's incredibly resistant to all traces of everyday use, the serving pan features a high and pronounced outward rim that allows all ingredient types to stew gently and prevent spills while pouring. The oven-proof pan can even be used as an unconventional baking dish, and thanks to the two hollow handles, they also do not become a touch hazard on the hob due to even heat distribution. On the other hand, the elegant grill pan gets hot quickly and achieves evenly-cooked food fast, plus the corrugated surface creates grilling with a special aroma when excess fat runs off into the specially designed grooves.
WMF Steak cutlery set (SGD59) and Profi Plus pieces
Culinary finesse is all about the prep, yes? Expertly crafted with WMF's signature skill and care from high-quality Cromargan® 18/10 stainless steel, these forks and knives don't just boast of the renowned manufacturing, but an exquisite aesthetic due to its eye-catching style. Food acid-resistant and dishwasher-safe, the set comes in a beautiful wooden box for secure and convenient storage. Further furnish with Profi Plus pieces including the meat fork (SGD39.90), which is made slender to effortlessly penetrate meat without releasing natural juices, and easy to pick up and turn over to check during the cooking process. For the pizza-lovers, the Profi Plus pizza cutter's (SGD29.90) rotating wheel quickly slices with ease, with a finger guard to protect against accidents.
Motion water decanter 0.8l (SGD59)
With a new design and ideal shape (coming in two different sizes), the minimalist and ergonomic refreshed version is centred around optimal handling. The Cromargan® Close Up cap opens and closes automatically with the help of a tilting mechanism, while the central detail is a pouring stopper made of stainless steel and silicone. It's an added bonus that the decanter fits neatly in the door compartment of standard refrigerators, allowing you to pre-cool your table drinks perfectly. The recessed grips also sit pleasantly in hand and honestly, the purist lines just steer the eye to the essential—the contents.
Baric Sommelier set 3-piece (SGD109) and 5-piece (SGD209)
True wine connoisseurs know that professional, clean opening of a wine bottle without damaging the cork has a charm all its own, especially when it preserves the quality of the wine. This accessory assortment consists of a corkscrew, foil cutter, bottle opener, pouring stopper and bottle stopper that all do their job with excellence. Focused on simple yet ergonomic handling, they are conjured up with Stuttgart-based design studio Pearl Creative. Robust blade steel, hygienic silicone and a coated steel spindle are just some testaments to purposed material design …which also means that they make actually thoughtful gifts.
Clever & More wine cooler (SGD129) and Easy Plus burgundy glass (SGD129)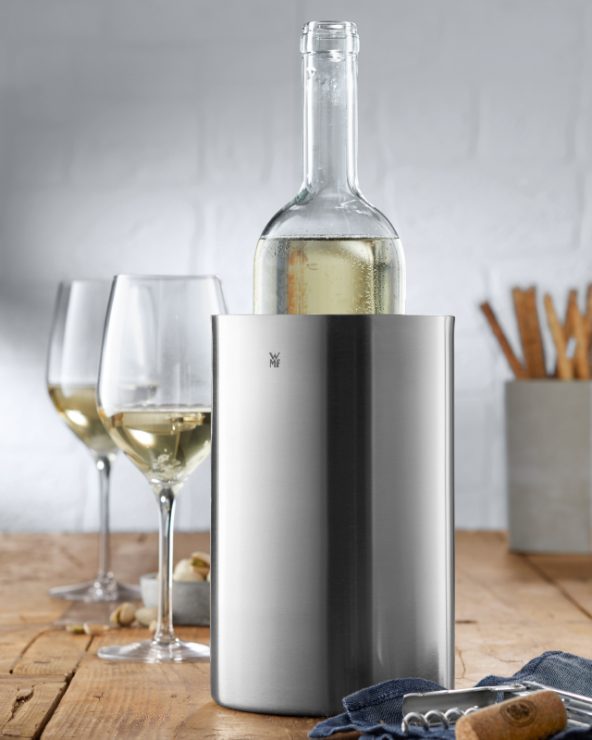 A smart piece with double-walled design and timeless matte finish, you can serve at optimal drinking temperature whether indoors or outdoors. Easily pair them with the characteristic Easy Plus burgundy glass which intentional bulbous shape allows more contact with air over a larger area when swirled compared to conventional red wine glasses. Made of high quality crystal glass, there's also a two-year guarantee against cloudiness.
Nuova cheese set (SGD49)
Possibly a favourite display piece for parties, you won't want to get this wrong. This two-piece cheese set helps achieve cutting cheeses of all varieties and forms neatly because both the cheese hatchet and the cheese knife have an extremely sharp blade that is tapered on both sides to ensure a smooth and straight cut (the deliberate holes in the cheese knife prevent soft cheese from sticking to the blade).
All items are available online on WMF Official Stores on Lazada and Shopee, and in-stores at Takashimaya, Metro, BHG, TANGS, OG and Isetan. Find out more about recipes, how-to product videos and gourmet moments at WMF.