With all that's happening in the world, it has never been as pertinent as now to be more environmentally aware and conscious. World Oceans Day is a reminder for the need to care about how our actions impact our planet. After all, 71 percent of Earth is water, and every living thing depends on it to survive.
We're all familiar with those harrowing visuals of plastics in our oceans—a seahorse clinging to a cotton swab, a sea turtle with a straw lodged up its nostril, and vast areas of garbage that have seemingly formed floating islands. Yet, the plastics that can't typically be seen under the naked eye—microplastics that derive from the breaking down of larger plastics over time—are quite possibly more dangerous. These particles have been consistently reported over the years to have been found in seafood as microplastics are easily ingested by sea animals. Guess who ends up eating them?
The fashion industry is by no means excluded from this ongoing problem. According to a 2017 report released by The International Union for Conservation of Nature, more than a third of microplastics released into the oceans are caused by the washing of synthetic fabrics; abrasions from washing synthetic fabrics unintentionally causes fibres to shed. Then there are also the many manufacturing processes that require huge volumes of water that when untreated properly, get released into the oceans.
Fortunately, there are a number of fashion brands that are making significant changes in ensuring that they're not part of the problem. Whether it's by taking steps to reduce the consumption of water or making use of recycled plastics that would've ended up in the ocean, these brands are helping to clean up our oceans and not just for World Oceans Day.
American brand Patagonia is no stranger to environmental causes. In fact, the brand commits one percent of all of its sales to One Percent for the Planet, an international organisation co-founded by Patagonia's founder Yvon Chouinard. In addition to that, Patagonia also provides grants to environmental organisations that fight to protect and clean our oceans, such as All One Ocean and Ocean Blue Project. Patagonia's raison d'être has always been to be environmentally focused in all aspects of their business. This includes ensuring that their packaging, while plastic, are recyclable, as well as turning discarded fishing nets (collected from the coastlines of South America) into hard-goods and textiles to be used in creating Patagonia's products.
adidas' work with environmental organisation Parley for the Oceans began in 2015 with the first collaborative collection launched in 2016. Using marine plastics—from washed up plastics on coastlines to illegal deep-sea fishing gillnets—collected by Parley, adidas has successfully recycled them into yarns to create an extensive range of high-performance sportswear, shoes, and other accessories. But beyond product, adidas has made significant strides internally by eliminating plastic bags in stores, microbeads from its line of shower gels, as well as banning single-use plastics in its offices globally. And to instil the importance of clean oceans, adidas started an annual Run For the Oceans initiative in 2017 that contributes a dollar to the Parley Ocean Schools Education program, for every kilometre run by a participant.
Combining Swedish design sensibilities with Portuguese craftsmanship, luxury men's essentials brand CDLP takes pride in its strive towards sustainability and working with innovative materials that support this ethos. Its swimwear offering is made of ECONYL, a fabric that's derived from recycled premium nylon. Nylon wastes from oceans and landfills such as discarded fishing nets are recovered, and through a purification process, gets turned into regenerated nylon that's hold the exact same properties and quality as virgin nylon. Furthermore, ECONYL has the potential to be infinitely recycled while still retaining its quality.
For the originator of modern boat shoes as we know them, Sperry is a brand that has a close connection to water. In 2019, the brand began working with material engineering company BIONIC, and Waterkeeper Alliance, to recover marine plastics and turn them into reusable materials. The Sperry BIONIC collection features classic Sperry favourites that have been reworked from recycled plastic bottles—each Sperry BIONIC shoe is made up of approximately five recycled plastic bottles. Additionally, the packaging for the collection has also been tweaked to be less polluting by using post-consumer recycled materials, water or soy-based inks, and eliminating the use of any adhesives.
Luggage brand TUMI first introduced its Recycled Capsule collection in autumn 2018, and then continued that with a second generation in spring 2019. The intention has always been to create something using recycled materials that wouldn't differ in quality from TUMI's well-known slate of nylon luggage. Each product from the spring 2019 range is largely made up of recycled nylon as well as recycled plastic bottles, with only 30 percent are made of new materials.
ReNew Storm jacket, by Everlane. (Photo by Everlane).
ReNew Transit backpack, by Everlane. (Photo by Everlane)
Known for its transparent manufacturing processes—from where its products are made (with pictures included) to what they are made with—Everlane launched its ReNew collection in 2018. Made entirely out of recycled plastics, ReNew has grown from an initial launch of just outerwear to include jumpers, accessories and bags. This is no mere subset of the brand's offerings too; the ultimate goal is to ensure that Everlane uses non-virgin plastics in all of its products by 2021. Most importantly, Everlane works with bluesign, an organisation that tracks the manufacturing processes of garments and ensures that harmful chemicals (over 900 of them) are not part of the chain.
Outerknown is a clothing brand co-founded by professional surfer Kelly Slater. From its inception, Outerknown aims to challenge the way that clothes are made by focusing on sustainability with a focus on cleaning up oceans. Partnering up with Aquafil—the company behind the ECONYL fabric—Outerknown's objective is to rework how synthetic fibres are made in order to lessen impact on the environment. It's range of ocean-saving initiatives has included using ECONYL in a lot of its products (90 percent of Outerknown's fibres are organic, recycled or regenerated), making all of its offerings of trunks using recycled (including plastic bottles) or renewable sources, using buttons created from washed up plastics, as well as publishing The Blue Book, a call-to-action for governments to support tax breaks on environmentally friendly textiles.
Aside from its one-for-one social initiative—every shoe sold means a shoe will be donated to a child in need—that has evolved to include grants, TOMS formed the TOMS Animal Initiative in 2014. The programme works with a nonprofit animal conservation organisation each time to create a collection that benefits the latter's cause. To date, TOMS has partnered up with Oceana—one of the world's largest ocean conservation organisation—thrice to advocate for the protection of different marine animals each time. TOMS has also most recently partnered up with Outerknown on a series of sandals that feature innovations such as ECONYL straps, and midsoles made from BLOOM algae foam, that's comprised of unwanted algae from aquatic environments.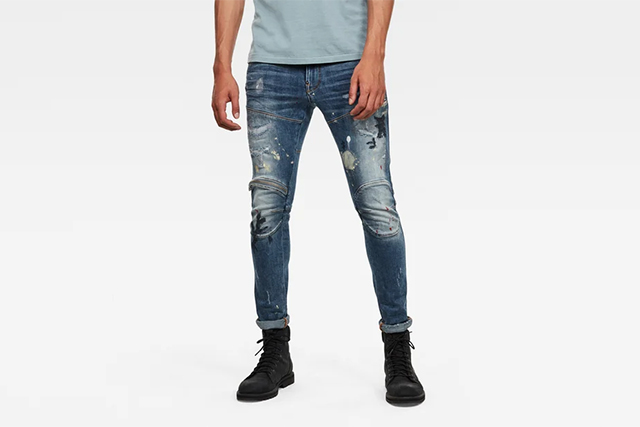 G-Star RAW has a long history of not only working on sustainability, but specifically finding new ways and innovations to protect the oceans. These have included multiple collections under the G-Star RAW for the Oceans tag—a multi-collaborative effort with Parley for the Oceans, Pharrell Williams and BIONIC—as well as a partnership with the Plastic Soup Foundation which began in 2016. The latter focuses on plastic fibres that get released by washing plastic-based textiles. Through the partnership, G-Star RAW is continually contributing to finding new ways of tackling that issue, such as creating textiles that do not release microfibres. In addition to that, the G-Star RAW for the Planet initiative aims to reach circularity with denim design (a traditionally water-intensive process), which includes eliminating unnecessary wastage of water and release of sludge into marine environments.
A brand committed to creating sustainable fashion out of recycled materials, Ecoalf prefers to use them over organic fabric because of their lower negative impact to the environment. The range of recycled materials that Ecoalf uses in its products include plastic bottles sourced from the oceans, nylon recovered from fabric scraps, fishing nets and carpets, cotton, wool, and even tyres. In 2015, Ecoalf started the 'Upcycling the Oceans' project where working with local fishermen all over the world, the brand aims to remove marine debris from the bottom of the ocean and then turn them into usable fabrics for its products. The project began in Spain and has resulted in 500 tons of waste removed. It then moved to Thailand where the project is poised to end this year, before continuing the efforts to another part of the world.
To read more stories related to World Oceans Day, visit our World Oceans Day section.