I hate to get personal on things like these but I have to start with an admission here: I've somewhat stopped eating steaks lately. Not religiously in terms of abstinence, I just never have the craving for it after encountering a mind-blowing filet mignon in a random restaurant in Germany over two years ago and struggling to find anything on par ever since. Terribly tragic first-world problem, I know.
So it's no small feat when I say a meal at this Japanese barbecue converted me back to a meat-hankering savage. While not in a 300g classically Western slab we may be accustomed to, the array of red meats raw, grilled, and stewed here succeed in the execution of carnivorous delight.
The Space
To answer the main function of the place and possibly your biggest concern, the restaurant utilises a state-of-the-art ventilation system for a comfortable, smoke-free grilling environment. With warm copper and brass touches, the interior style is refined, but not intimidatingly so.
The floor-to-ceiling transparent walls certainly help, and the restaurant also houses a private dining room that fits up to eight (when the day comes) for an even cosier setting. For the fully vaccinated, a great dine-in location.
Must-try
Whisky Dry Aged Wagyu ribeye.
Ox Tongue.
Wagyu Beef Noodles.
As the backstory goes, post-MICHELIN Plate nod and years of accolades, Yen Yakiniku launched Yen Social to avail signature premium cuts at wallet-friendly prices. One of these signatures is the range of in-house dry-aged Wagyu beef, and here the Whisky Dry Aged Wagyu ribeye(SGD58) using Kavalan single malt whisky from Taiwan marks a Singapore's first.
The Iberico Pork Jowl(SGD14) elbows its way into a mention for being pretty decent for only a light salt and pepper dusting. Chef favourite Wagyu Beef Noodles(SGD25) spins Taiwan's famed dish with a six-year perfected recipe. The rich broth tastes the part; the part being slow stewing beef tendons for 48 hours with daikon and local herbs. The aromatic simmered soup and tender gelatinous chunks would be a meal we'd be glad to have weekly if not for its price.
The Star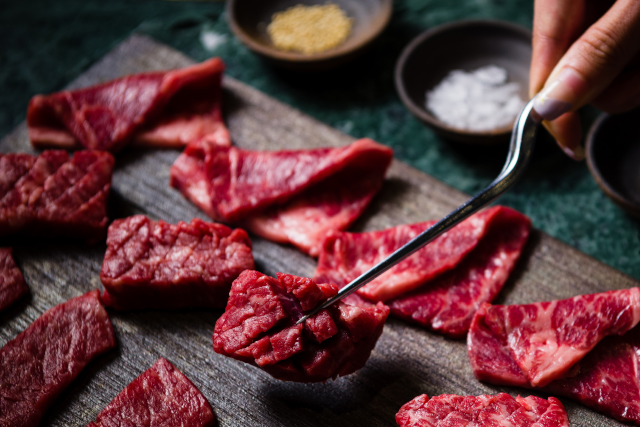 Undoubtedly the YEN Social Butcher Platter(SGD109), which supposedly feeds up to 3 pax, but portion-wise, we say one could easily wipe it clean. Progression goes from thin and light to thick and rich; sliced Chuck eye roll sears quickly on each side, while the marbled karubi (boneless short rib) is simply put, fat and chewy.
Still, it's the Ribeye cap that outshines with its housemade marinade, and please, leave it to the expert hosts to assist in grilling it rightly medium rare for you. It's too precious to obstinately think you can achieve it yourself.
How we feel about it in a gif
YEN Social is located at Duo Galleria #01-25/26, Singapore 189356.
Islandwide delivery is available with SGD10 flat fee and SGD50 minimum order.