It's not news that Zouk has transformed into a dining establishment, much less its reason for doing so (sorry, party people). Thanks to the success since its launch last month though, what started out as a pop-up for the nightlife venue, which now opens Wednesday to Saturdays 5 – 11 pm, has become a permanent concept. We visited on a Thursday evening and by 8pm, the 100 pax capacity was filled.
The Space
We're going to preface this with the disclaimer that we've not been to Zouk since it moved to the Clarke Quay precinct, so we can't make the before and after comparison, or reminisce with you how the dance floor just hits different with the added seating arrangement. What we can say is that the kaleidoscopic ceilings of the lounge and bar against a backdrop that's still kept dark does a nifty night out make. Generic pop music reverberates at a volume that's closer to a club than a restaurant, but not to the point where you have to shout over it to have a conversation.
Must-try
While we didn't get to try CEO Andrew Li's favourite Signature Battered Fish & Chips and its unique side of mashed peas, or crowd choice Signature Royal Broth Congee, the Fiery Gamberi Aglio Olio (recipe courtesy of Li) is decent. Besides a special menu from Five Guys, do look out for its Today's Specials which features the latest deals from the kitchen. Drinks wise, we're not crazy about the bottled cocktails, but they come in a sizeable amount for the table.
The Star(s)
What shines is the in-house team and Red Tail Bar's head chef collaborated sharing dishes—appetisers like the Eggplant Parmigiana, which does the vegetable so much justice it can convert its haters; and the Crab Meat Tartare where you'll want to order a second serving of its crispy goodness.
You may be skeptical of the trending Paparch Burnt Cheesecake as we were, but the dessert truly puts all other cheesecakes of like genre to shame with its deliciously gooey centre. It's also a good hack on how to get a slice since its constantly sold out online.
How we feel about it in a gif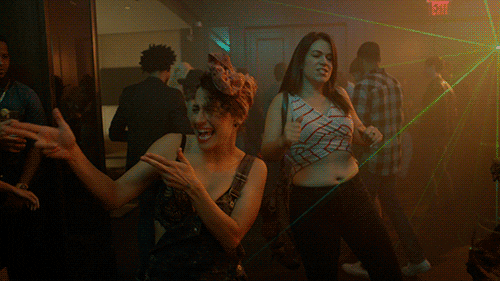 Capital Kitchen is located at 3C River Valley Road #02-05, Singapore 179022. For reservations, call 9006 8793.